Night Gallery is pleased to present a viewing room documenting Daniel T. Gaitor-Lomack's Where the Hood At: A Conceptual Performance Assemblage, a performance presented at Night Gallery in Summer 2020. Gaitor-Lomack is a Los Angeles-based sculptor and performance artist whose work has been included in our group exhibitions Grey Garden and MAJEURE FORCE.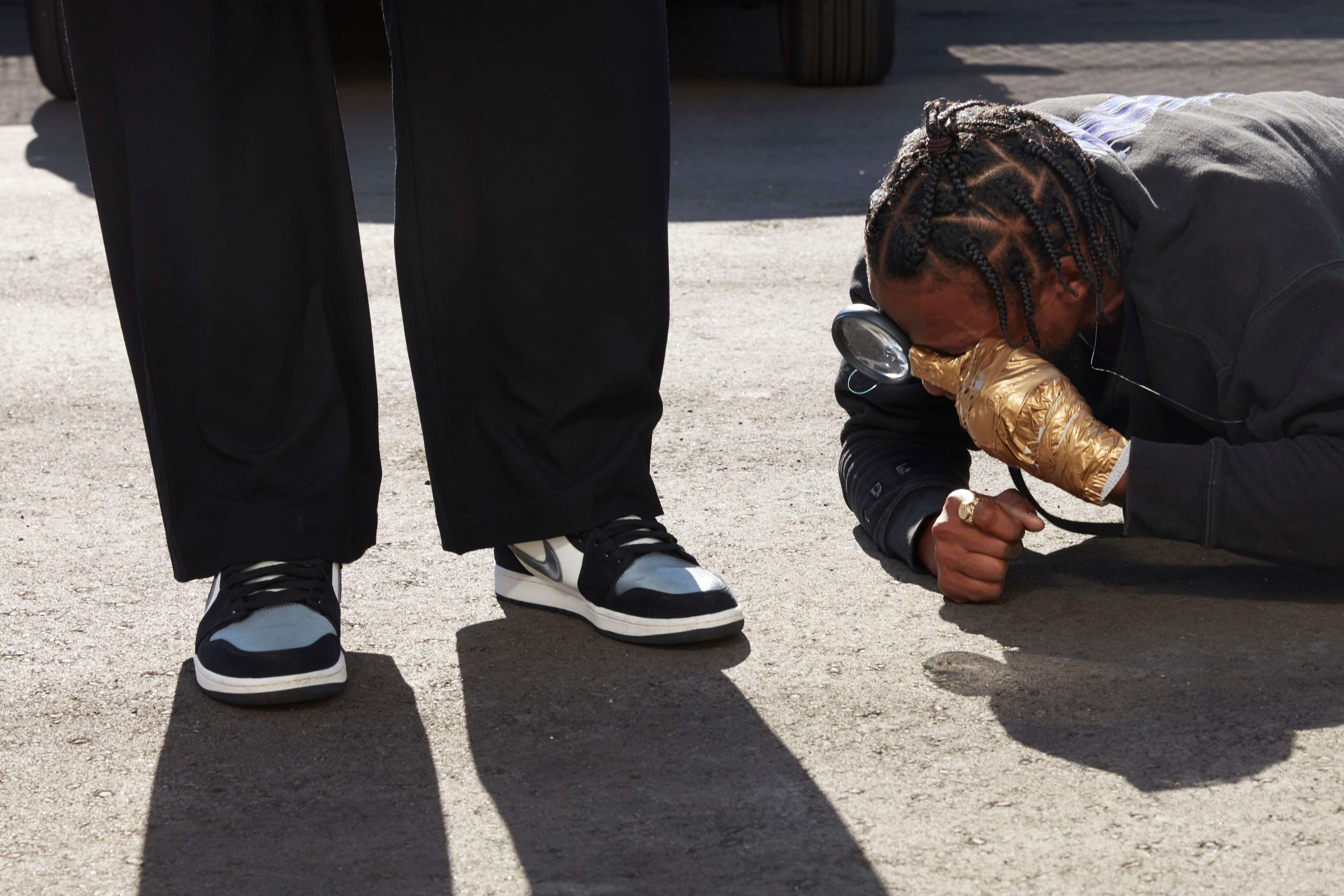 Gaitor-Lomack's work contemplates the social and spiritual codes inscribed into everyday objects. The idea of reincarnation animates his approach to the traditions of the readymade and the assemblage, as objects are reclaimed, reinterpreted, and given new life. While his readymade sculptures destabilize artifacts of the everyday, Gaitor-Lomack's objects are not wholly ridded of their social associations. Instead, abstracted from their conventional uses, he opens his sculptures up to new contexts for communal engagement. His performances put these sculptures into practice, activating the works' imaginative potential while revealing a great interconnectedness of artist and audience.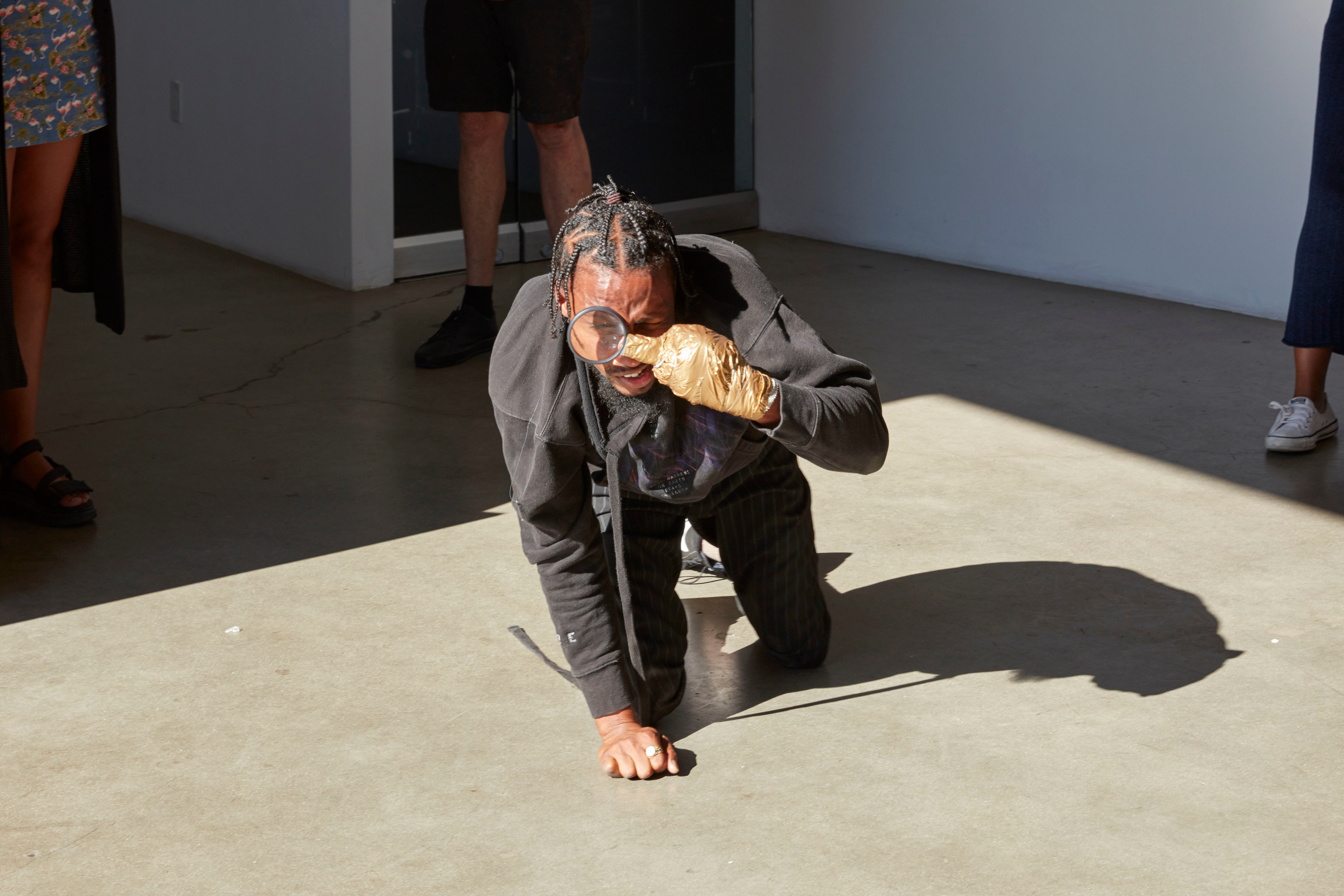 Where the Hood At: A Conceptual Performance Assemblage was presented at Night Gallery on August 29, 2020. The performance was concurrent with MAJEURE FORCE, Night Gallery's ten-year anniversary exhibition, which included Gaitor-Lomack's sculpture Where the Hood At?, 2020. The sculpture, which consists of two parts, is made up of entirely found objects: a rusted pole lodged into a block of concrete; two beer cans fused together; a tennis ball; and a sweatshirt nailed to the wall, its hood cut off. These objects evoke not only human activity but the human body, speaking to our understanding of material goods as extensions of ourselves. The last of these is an explicit homage to, and inversion of, David Hammons' seminal 1993 work In the Hood.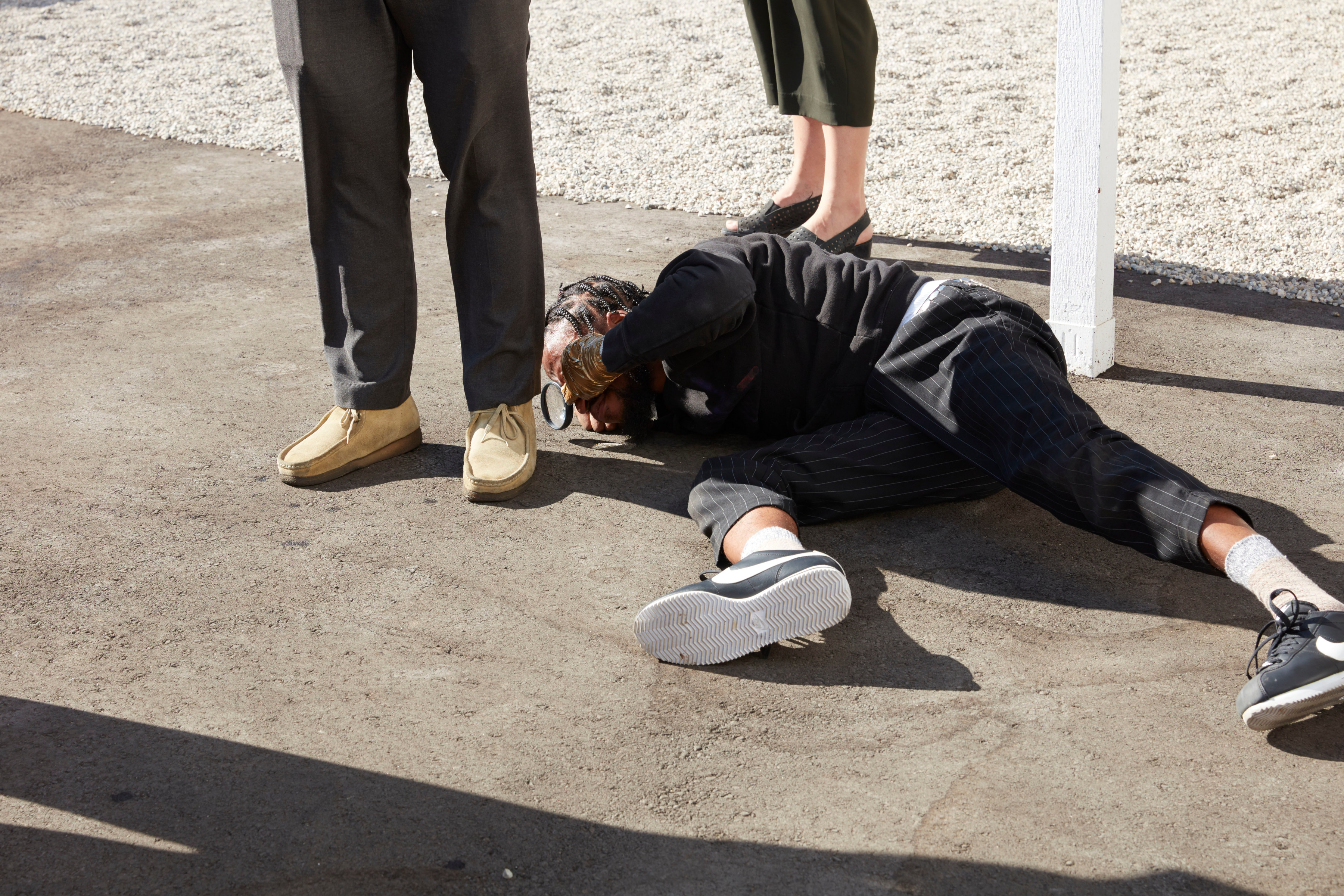 "Where the Hood At is an elevated metaphorical response to David Hammons's In The Hood artwork. It continues the conversation. Rather than the average reference, it builds an experiential equation. A stream of street philosophy that's taboo and revered to the surface level mind frame. If you are like me, then you look for the hood in everything you do. The hood is in my heart like the memory of a sacred ground. It's far from concrete. It's a question and an answer to the commercial platform and broad misplacement of Black/Brown geography and essence, which tends to lack the many nuances that are deeply rooted in the prophetic natures of the Black/Brown communities." – Daniel T. Gaitor-Lomack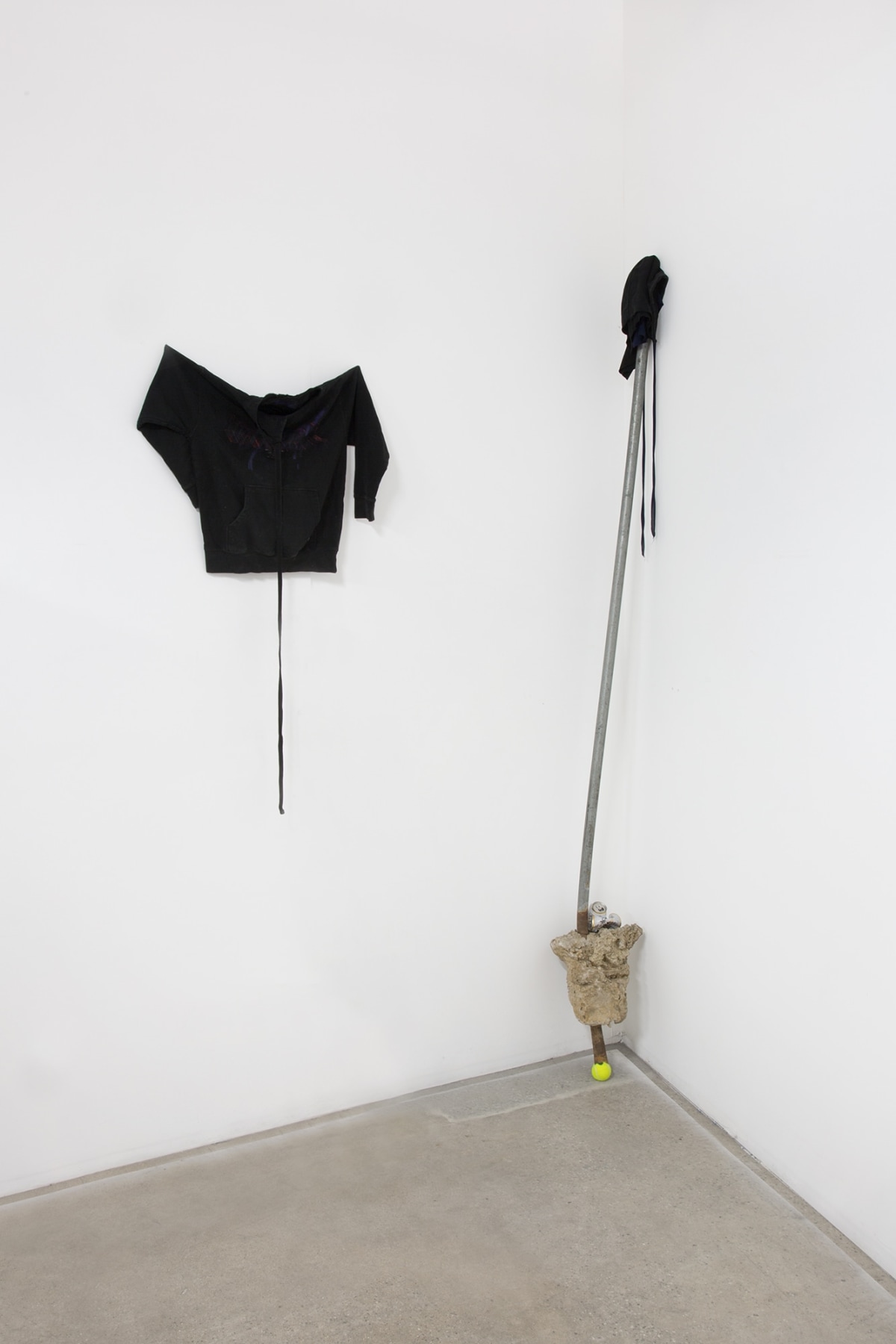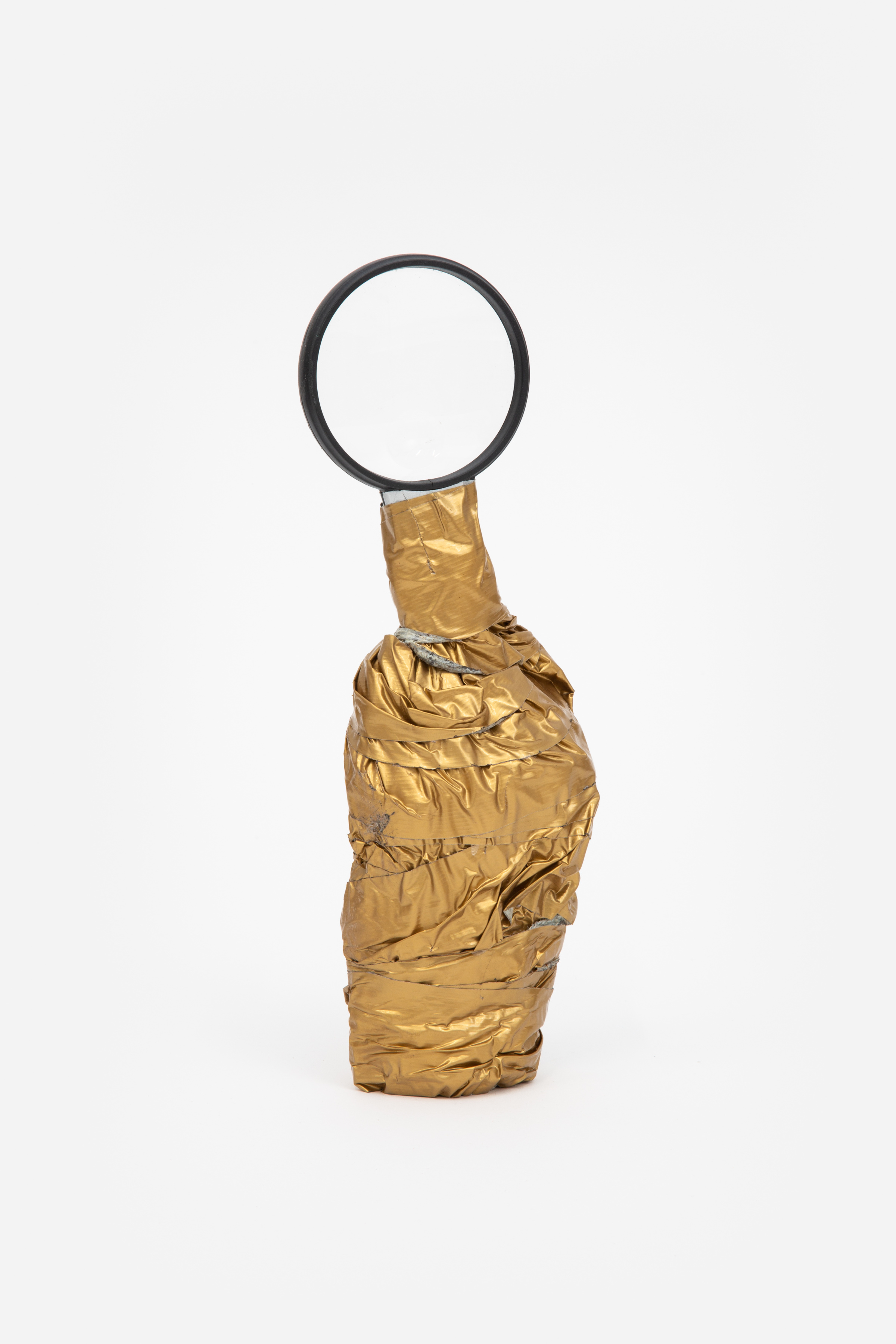 Gaitor-Lomack's performance presented an activation of Where the Hood At? We Right Here alongside a new work made for the exhibition, Eye of Midas, 2020. This work featured a magnifying glass duct taped in a glove-like construction to the artist's hand, appearing as a cyborgian appendage to the artist's body. The performance found the artist crawling on all fours, inspecting the feet of his audience members. One can detect in the performance documentation a growing ease among the audience, whose confusion morphs into willing participation. If Gaitor-Lomack's work is an act of redefinition, his performances demonstrate this process in real time, mapping his audience's gradual understanding and acceptance of the new terms his work creates.
Following this act of communal reinvention, Gaitor-Lomack engaged his sculpture from the exhibition, wearing its headless hood and using its pole as a walking stick, a climbing implement, and a divining rod. Stills from the performance reveal tableaux that evoke Biblical narratives as much as contemporary life, placing his act of myth-making on a continuum with society's most enduring narratives.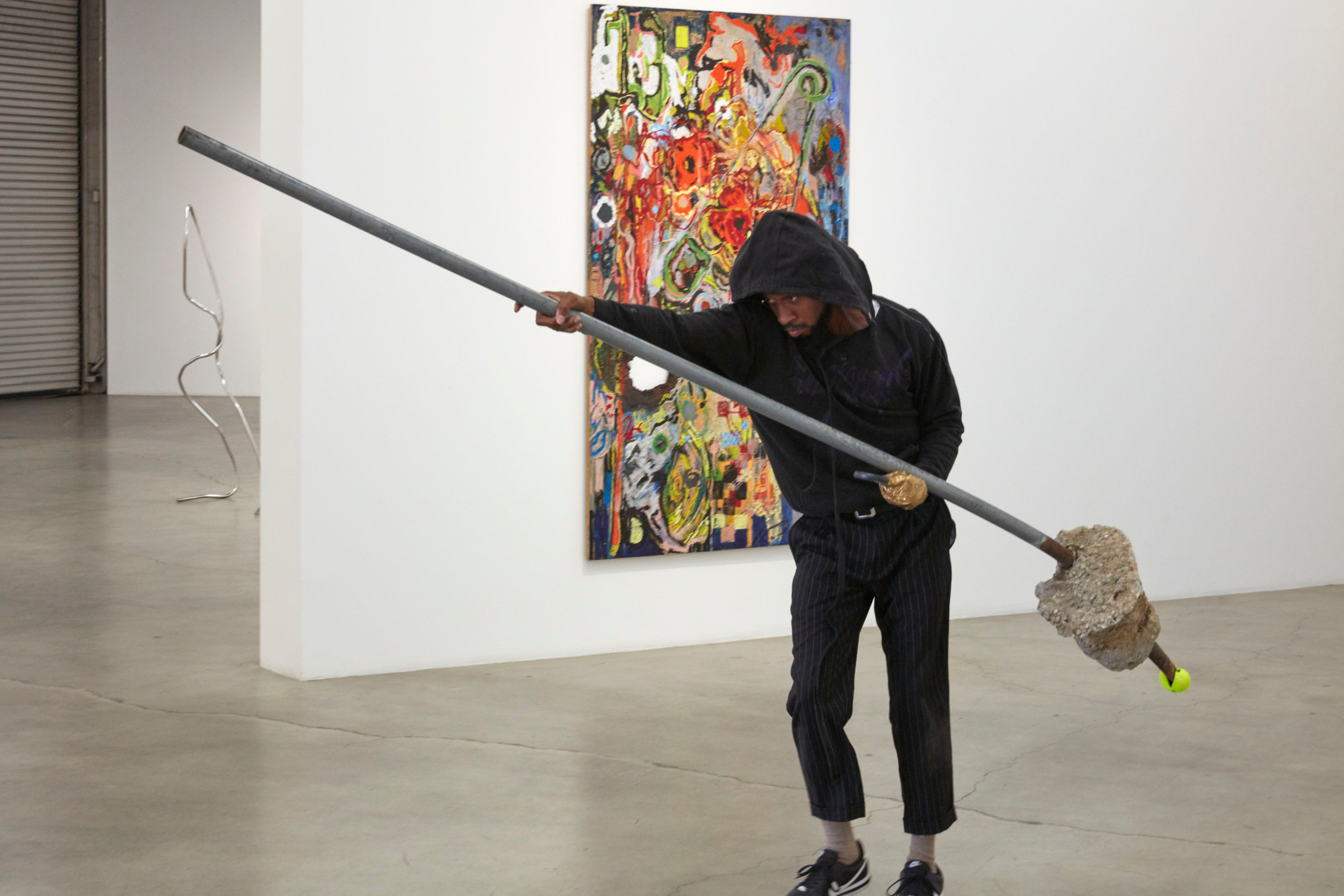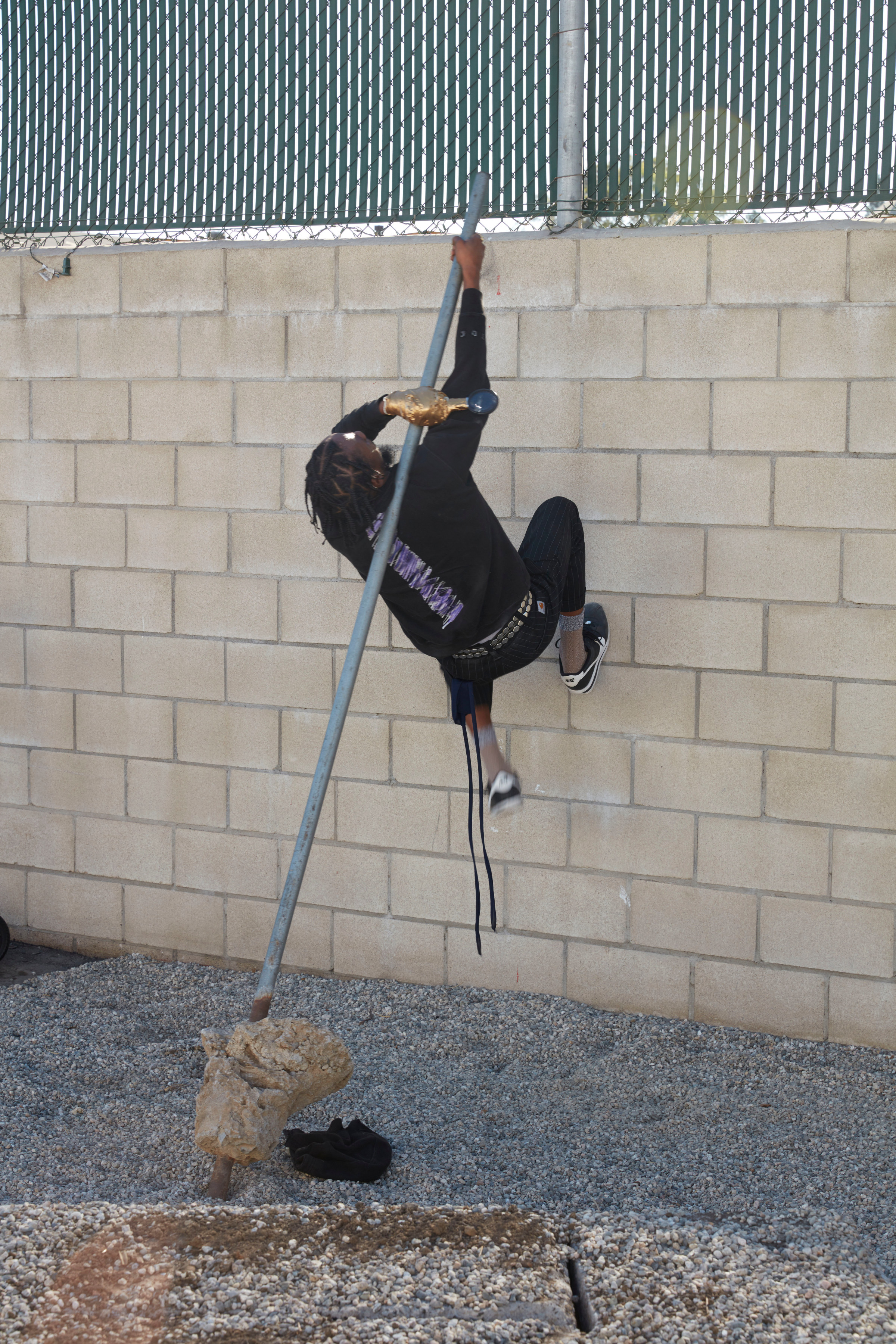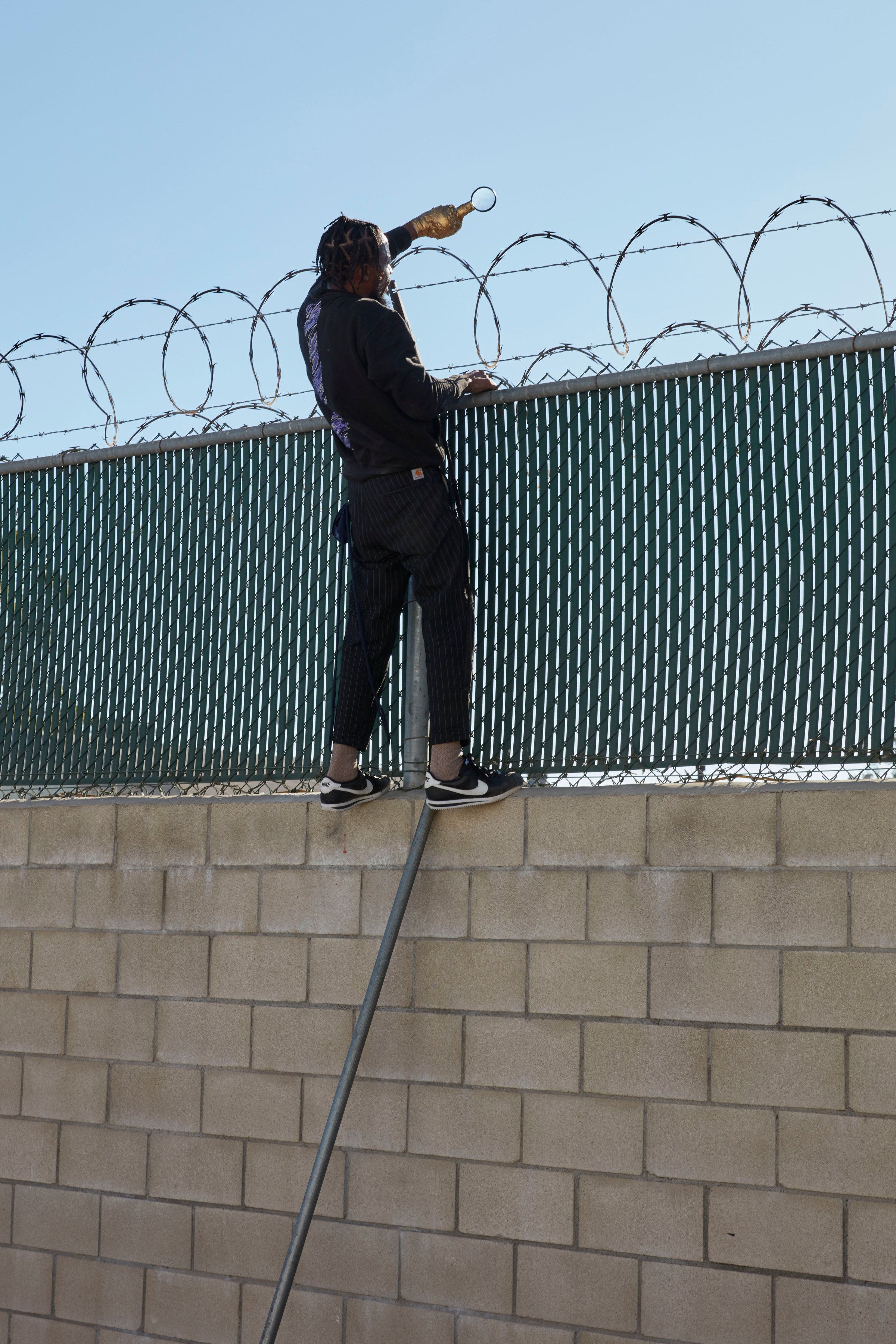 Daniel T. Gaitor-Lomack (b. Neptune, NJ, 1988) opened his first solo exhibition at Alyssa Davis Gallery, New York, NY, in January 2021, and will present a solo exhibition at Lyles & King, New York, NY, in March 2021. In addition to Night Gallery, Gaitor-Lomack's work has been included in group exhibitions at BBQLA, Los Angeles, CA; ltd, Los Angeles, CA; LAXART, Los Angeles, CA; Transmission, Glasgow, Scotland; and the Torrance Art Museum, Torrance, CA. Gaitor-Lomack is the recipient of the Rema Hort Mann Foundation Grant and the NXTHVN Fellowship. He lives and works between Los Angeles, CA and New Haven, CT.