Night Gallery is pleased to present Rib Erosion, an exhibition of textiles by Libby Rosen—a collaborative project between artists Anne Libby and Anna Rosen. This is Libby Rosen's first joint solo show with the gallery, following Libby's 2021 exhibition See Me So and Rosen's 2020-1 exhibition Egg and Dart.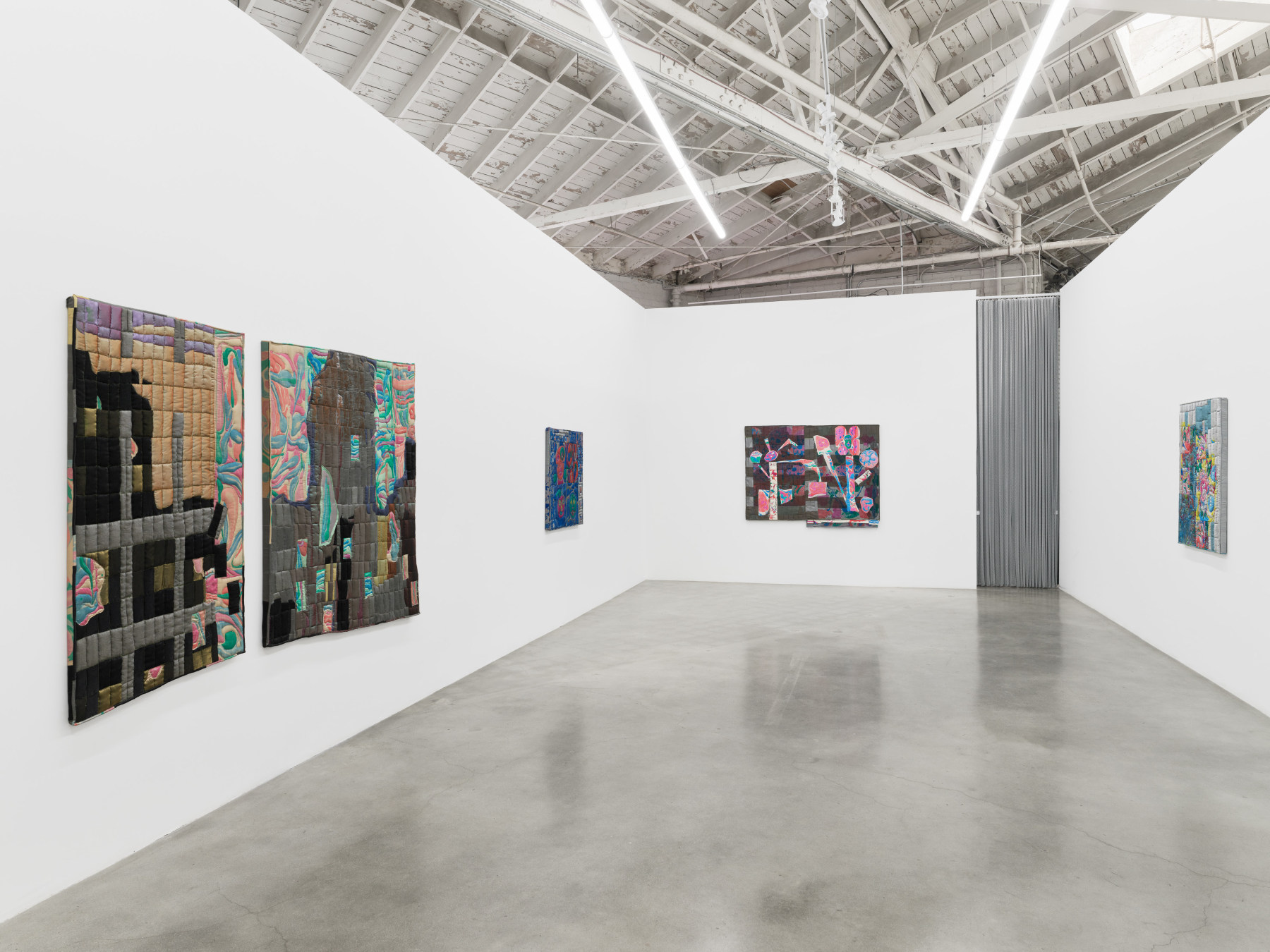 Libby Rosen, Rib Erosion, installation view, 2023
Libby Rosen, Flower Boss, 2022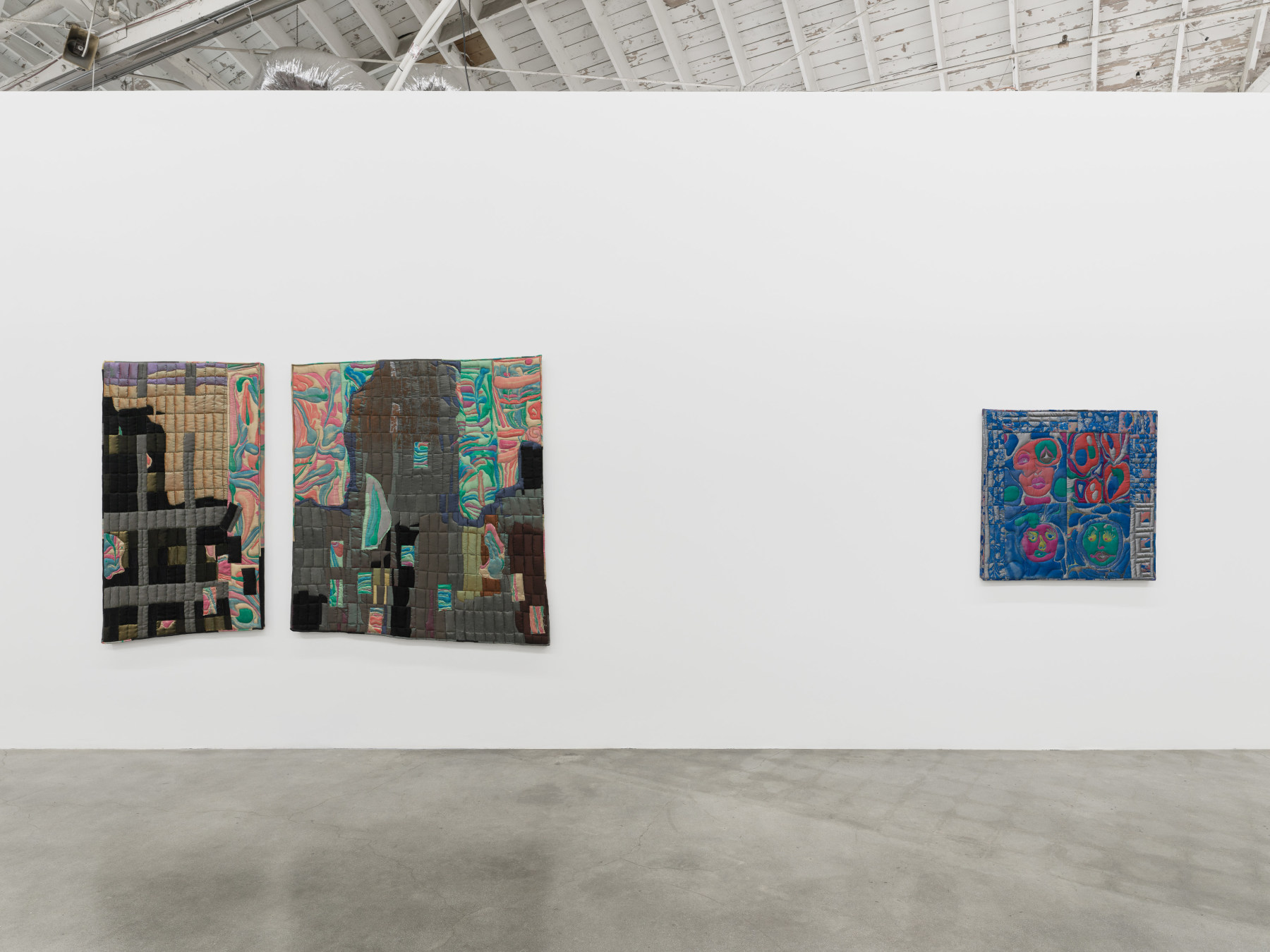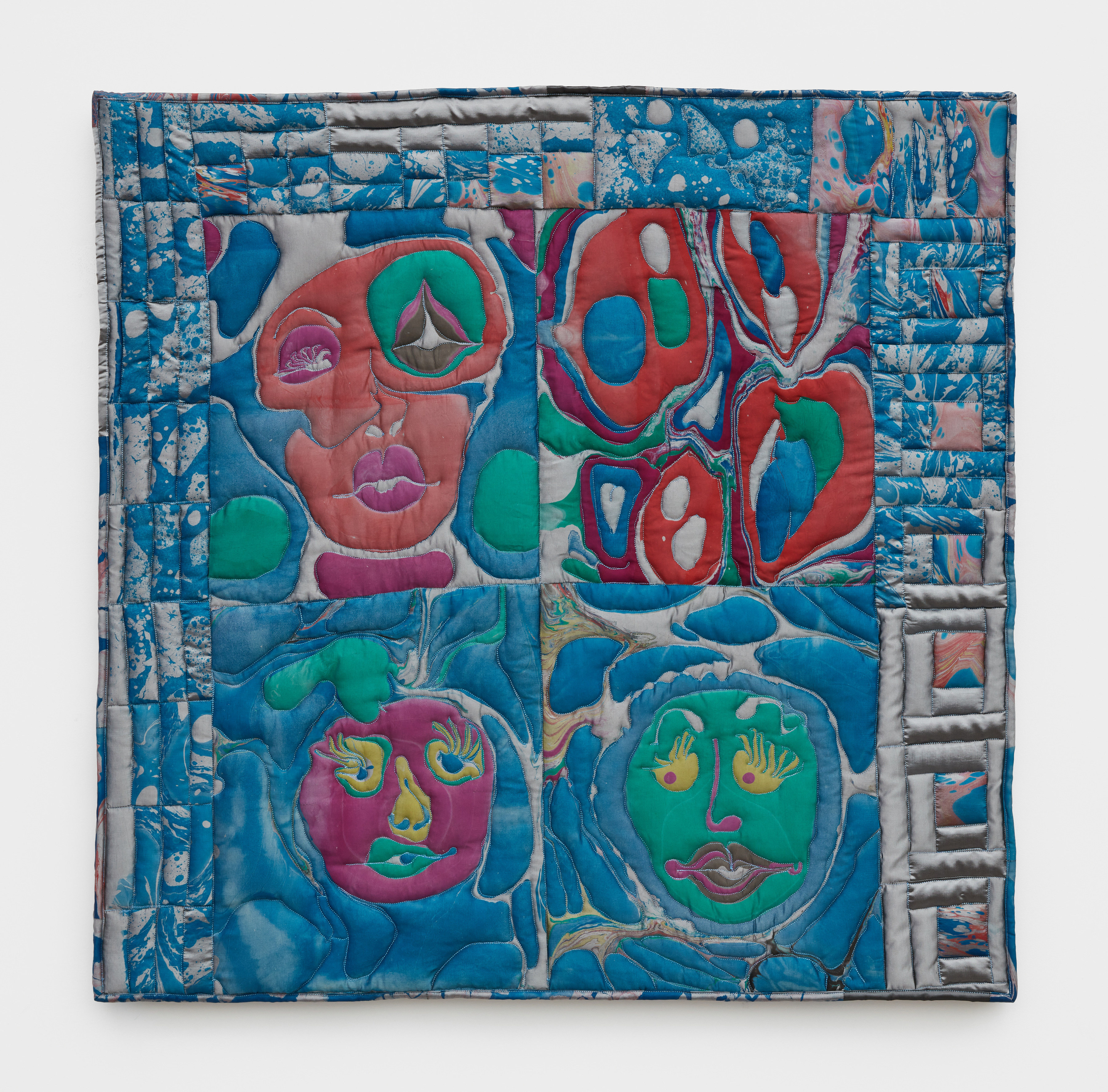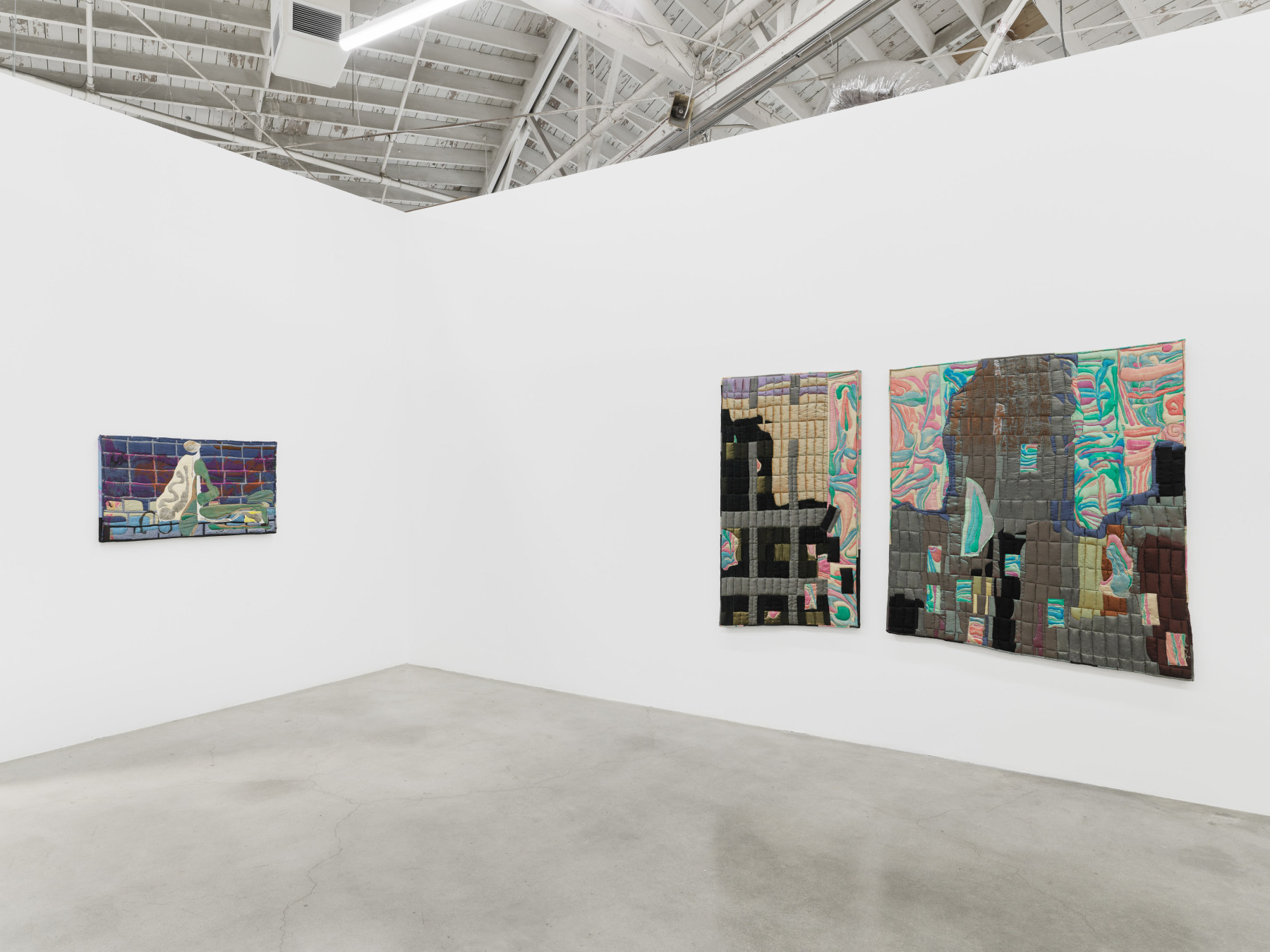 Anne Libby and Anna Rosen come together under the moniker Libby Rosen, a collaboration that integrates the hypnotic marbling techniques of Rosen's works on paper with the delineated quilting for which Libby is known. This synthesis yields unexpected results as the preconceived representations of urban structures in Libby's work become distorted through the psychedelic lens of Rosen's marbling, which relies on chance.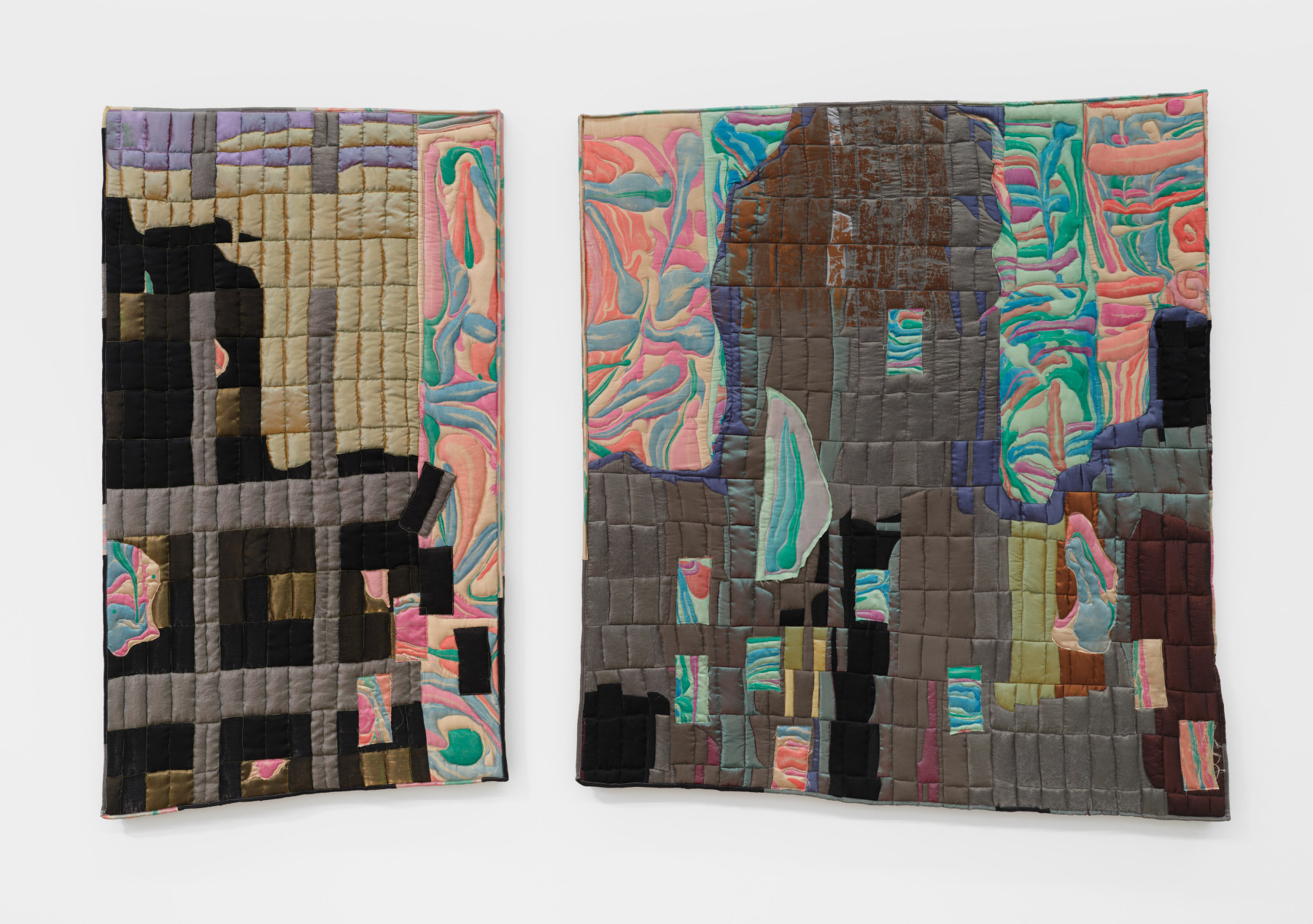 Libby Rosen, The Feather District, 2023 (left) Libby Rosen, Sixteen Plumes, 2023 (right)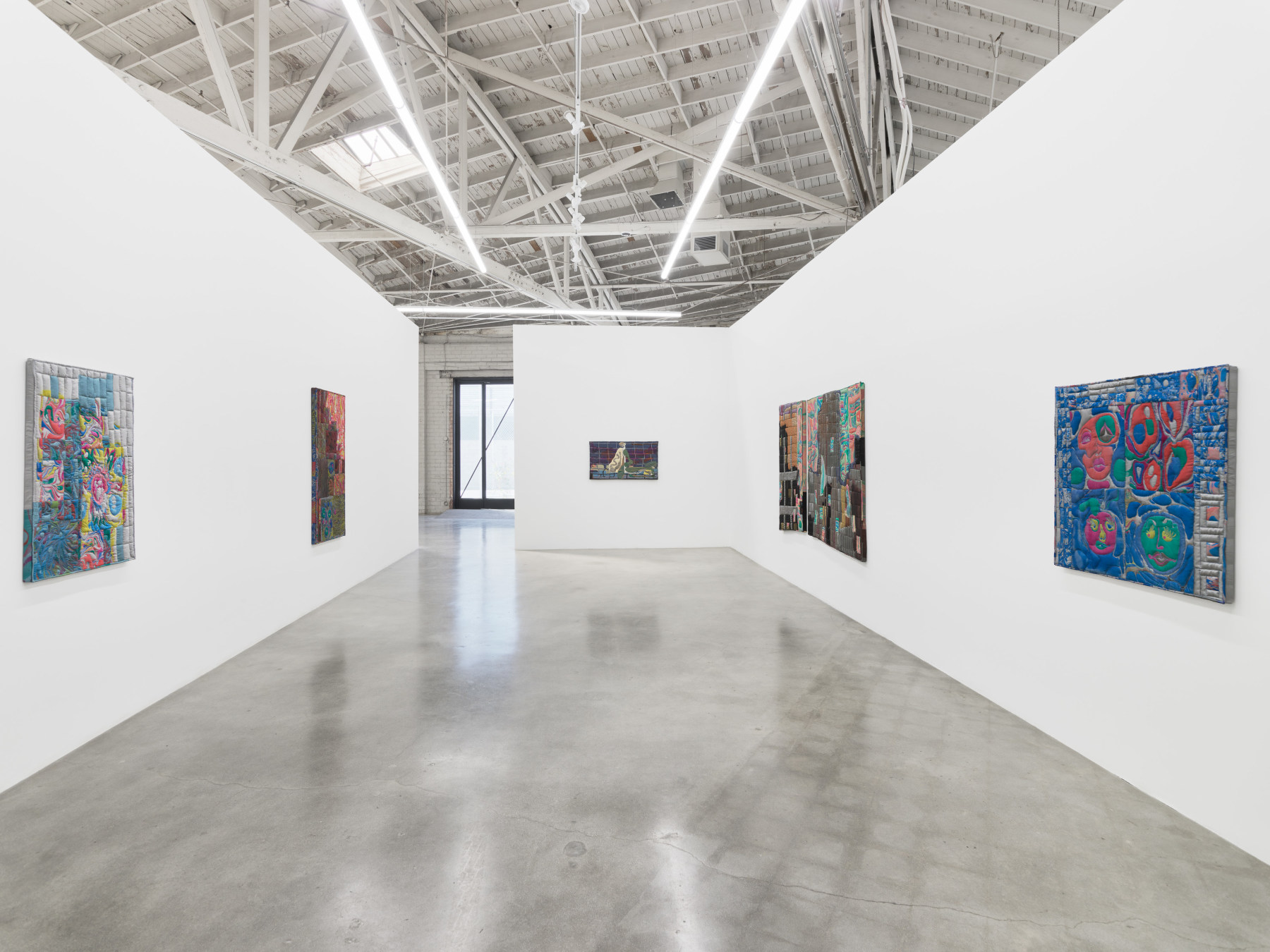 As the show's cheeky, assonant title suggests, the works throughout Rib Erosion—its title a loose reordering of the letters in the artists' names—delight in permutation and rhyme. In these process-based textiles, Anna Rosen's jewel-toned, marbled silks rattle against and seep into the comparatively muted, earthy palettes of Anne Libby's quilted satins, slyly disrupting their gridded frames. The creep of pigmentation is visible in Shower Scene (2022), in which giddy, oil-slicked iridescence gradually overtakes angular, gridded blue and black waves. The resulting compositions appear on the verge of both cohesion and fissure.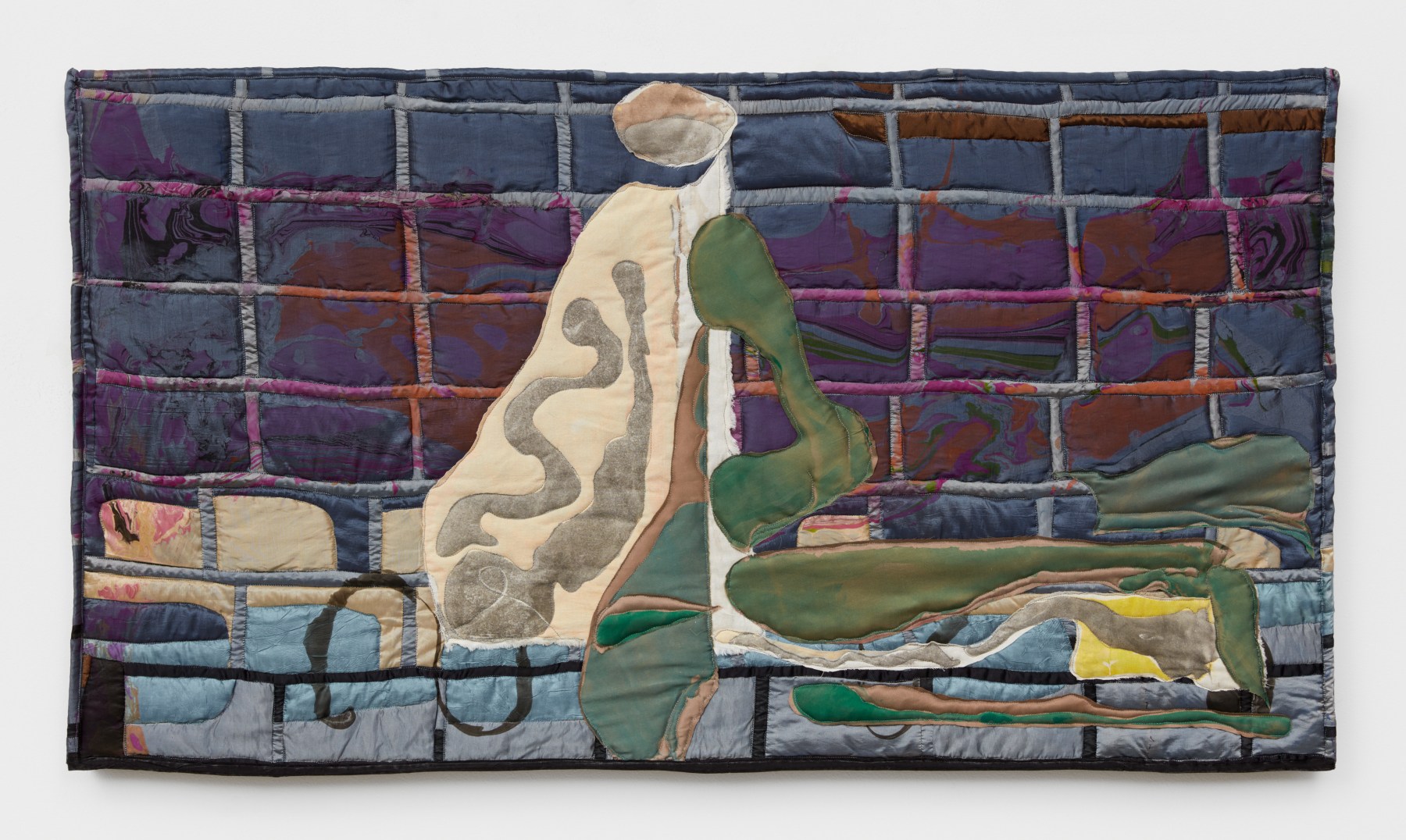 Libby Rosen draws on the artists' shared interest in traditional craft techniques. Rosen's marbling uses a process derived from Turkish Ebru painting, in which pools of acrylics are suspended on the surface of a water bath and coaxed with an awl into striated bands; a sheet of silk is then carefully overlaid on the bed to transfer its swirling eddies of pigment. The resulting compositions and patterns appear as devil-may-care psychedelic and as transient as a liquid light show projection, although they are actually the result of deft manipulations that ensure the strands never synthesize into a homogenous mud. Often starting with Libby's materials as a substrate, these swatches snap periodically into the winking coherence of faces, flowers, a moon, and other imagery. Libby strategically incorporates swatches of Rosen's fabrics into her quilted, patchworked grids, part of the sculptor's ongoing series that captures the disorienting urban visual experience of encountering kaleidoscopic refractions of light on the glassine windows of skyscrapers.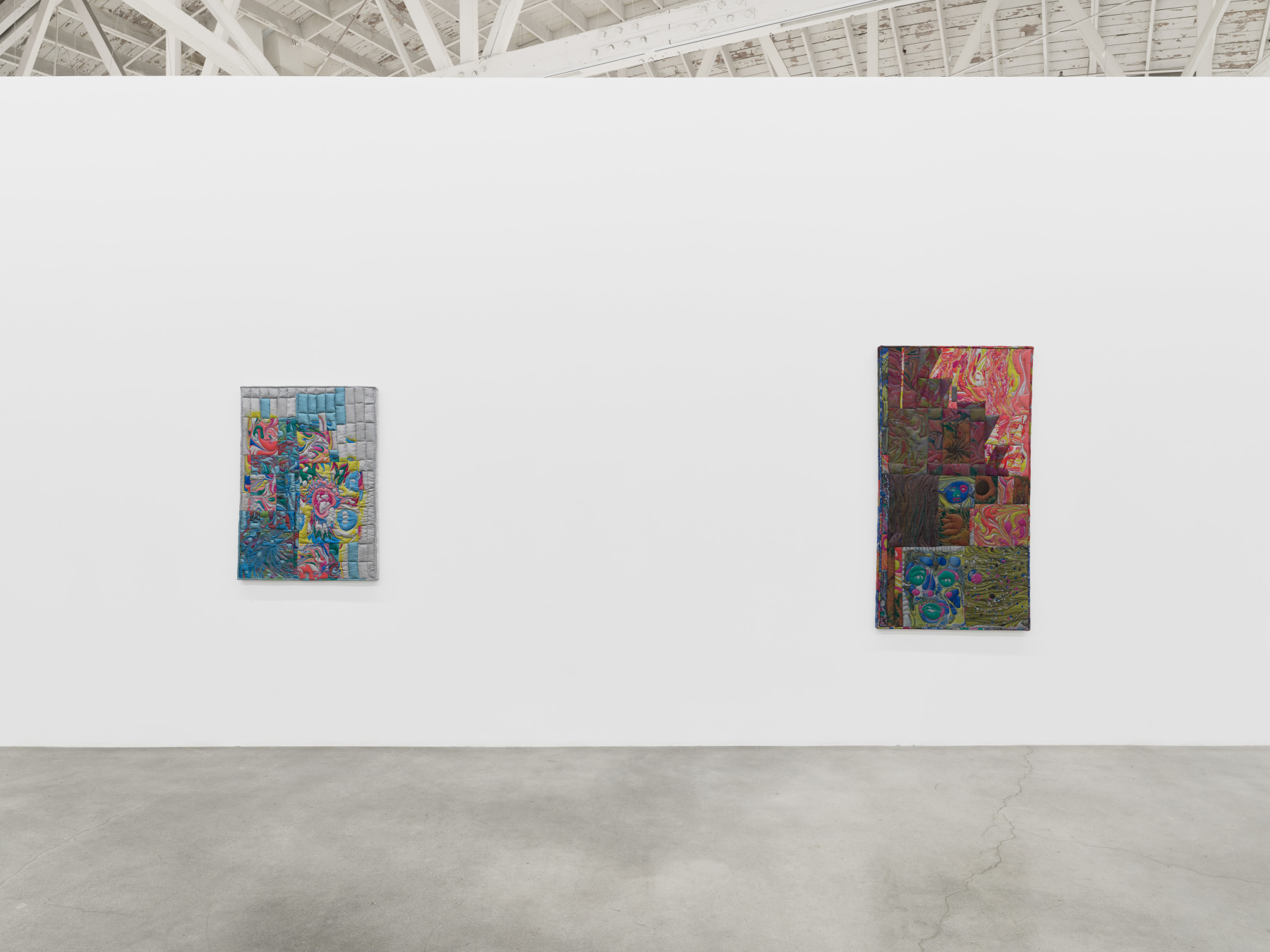 In lieu of a conceptual conceit, Libby Rosen adopts a playful collaborative logic that follows the cadence of theme and variation. Rosen's textiles, appearing like the bacterial growths of a petri dish, contribute a micro response to Libby's macro compositions. The resulting works, taken from the patterns that cover the surface of our world, point to the generative possibilities for exchange.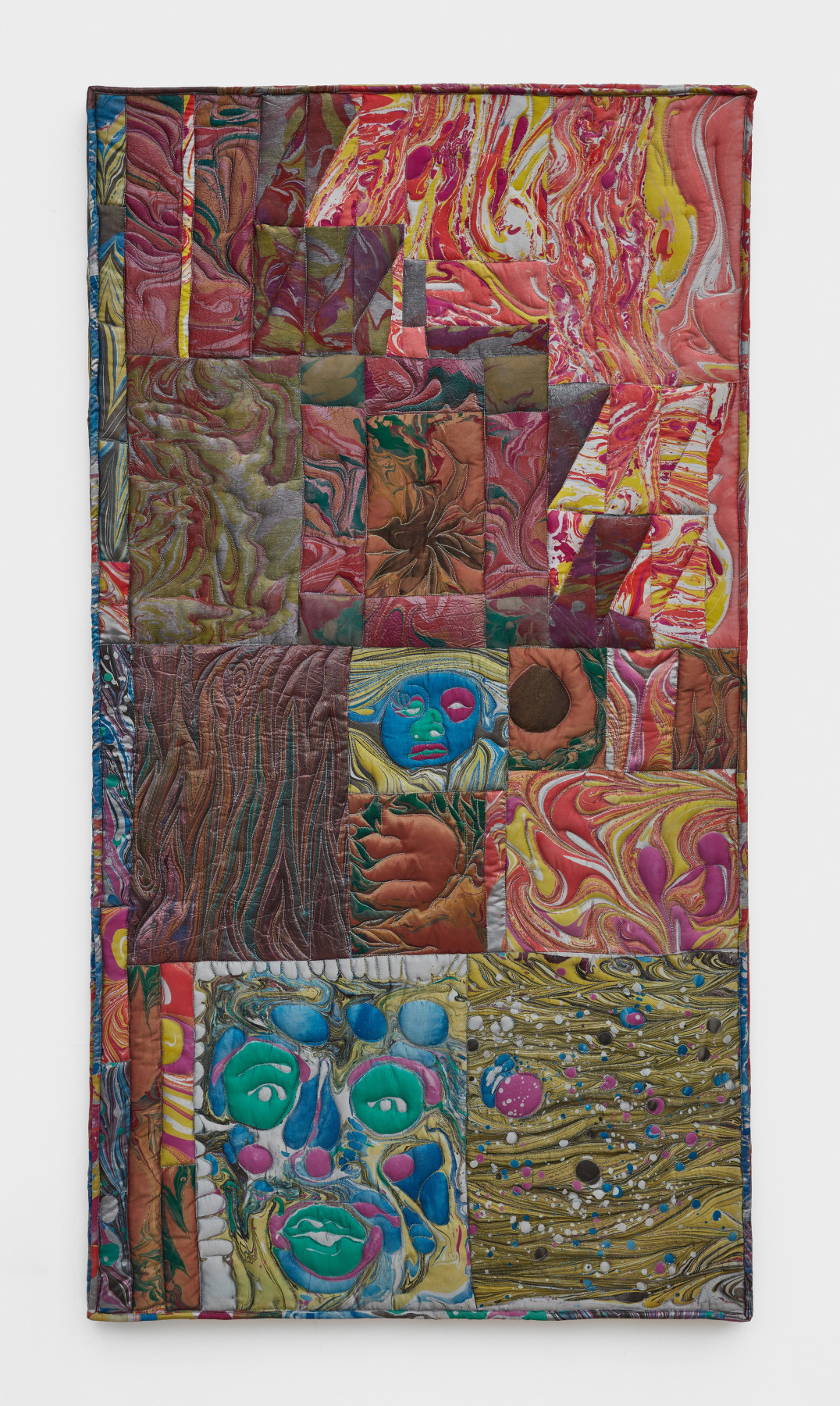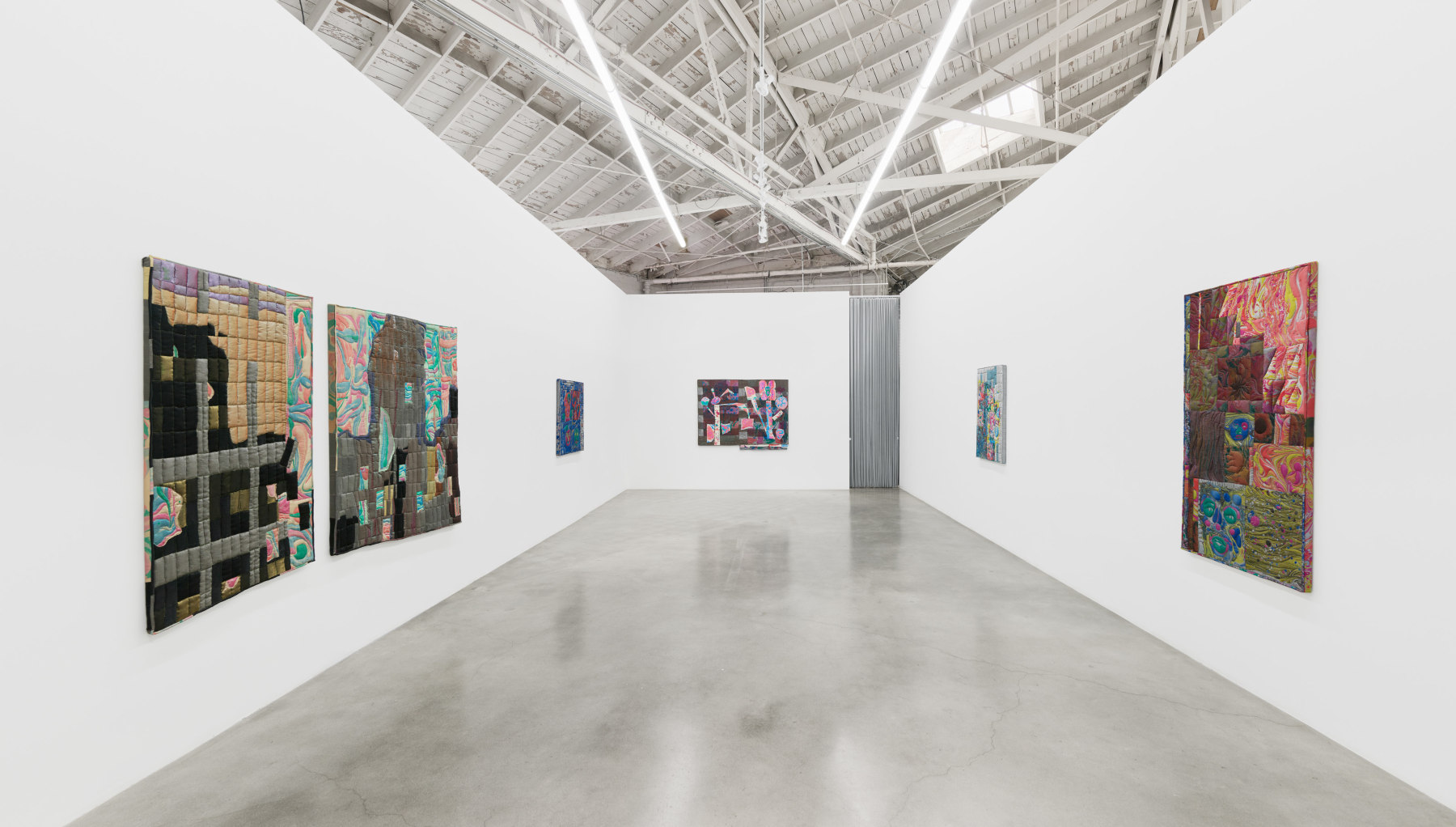 Libby Rosen is a collaborative practice between Anne Libby and Anna Rosen, which the artists initiated in 2022. Libby has had solo exhibitions at Del Vaz Projects, Santa Monica; Magenta Plains, New York; Night Gallery, Los Angeles; Ribordy Thetaz, Geneva, Switzerland; and The Downer, Berlin, Germany, among other galleries. Rosen has had solo exhibitions at Hans Goodrich Inn, Chicago; Kerry Schuss, New York; Night Gallery, Los Angeles; and Page (NYC), New York, among other galleries. The duo lives and works in Los Angeles. Both artists are represented by Night Gallery individually and through this collaboration.