Night Gallery is pleased to announce Repro, an exhibition of new work by Rose Marcus. This will be the artist's third solo exhibition with the gallery.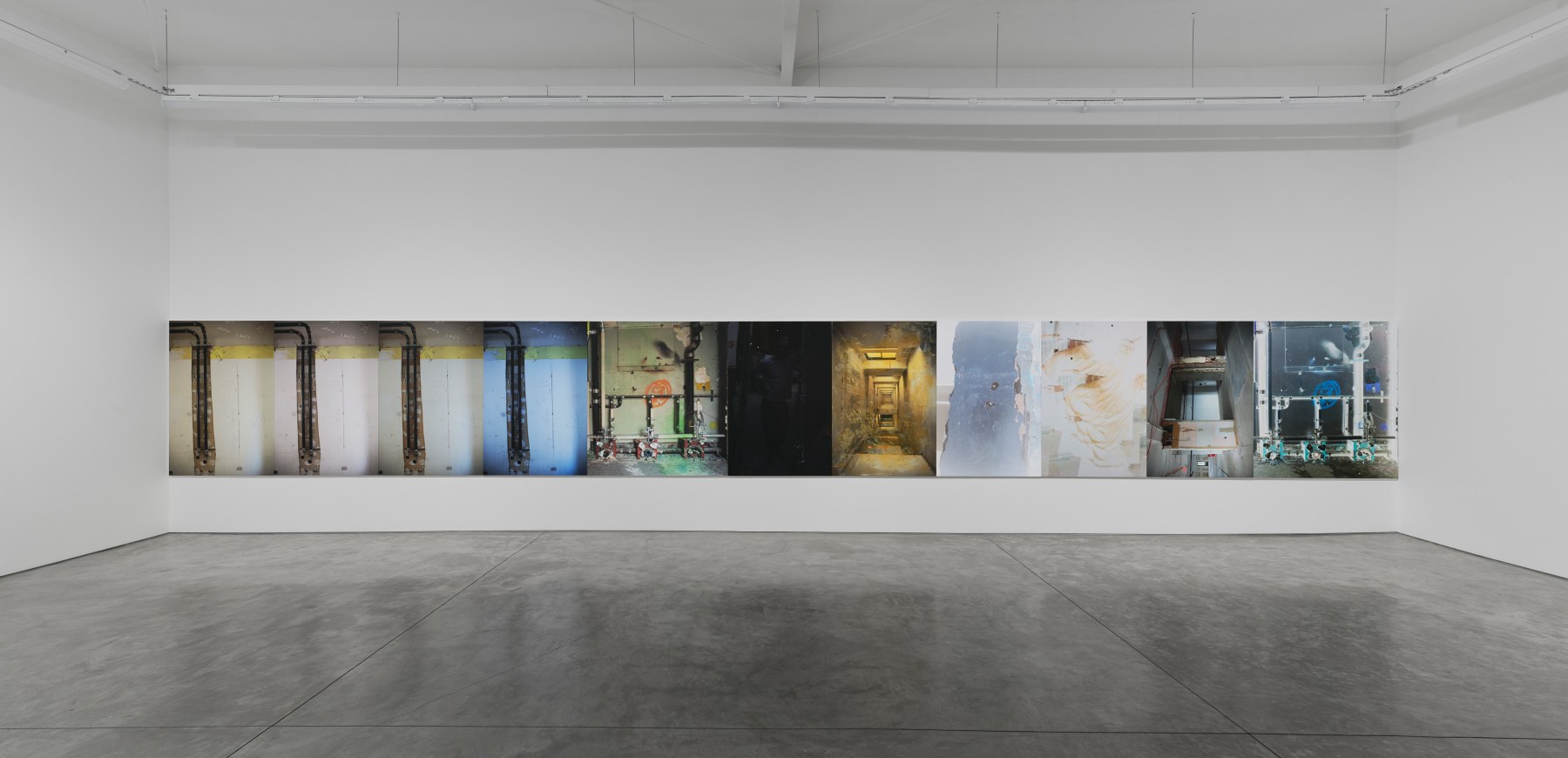 Rose Marcus carries one work she deems wanting more from each solo show to the next. During her last solo show with the gallery in 2019, Marcus displayed a series of works of a skyscraper under construction, breaking into the sky. One of the works presented, Eros, is a photograph of a construction worker at an open gate, heavily underexposed. The barely-there silhouette, a figure in a hard hat, (see: central, dark image above), becomes an archetype: a soldier, or a statue hardened into seductive contrapposto. In the artist's forthcoming exhibition, titled Repro, the artist reproduces this image into a series of works. Marcus responds to Eros through repetition and a contextualization of the figure into interior shots of construction sites where the jobs have long paused, perhaps been abandoned.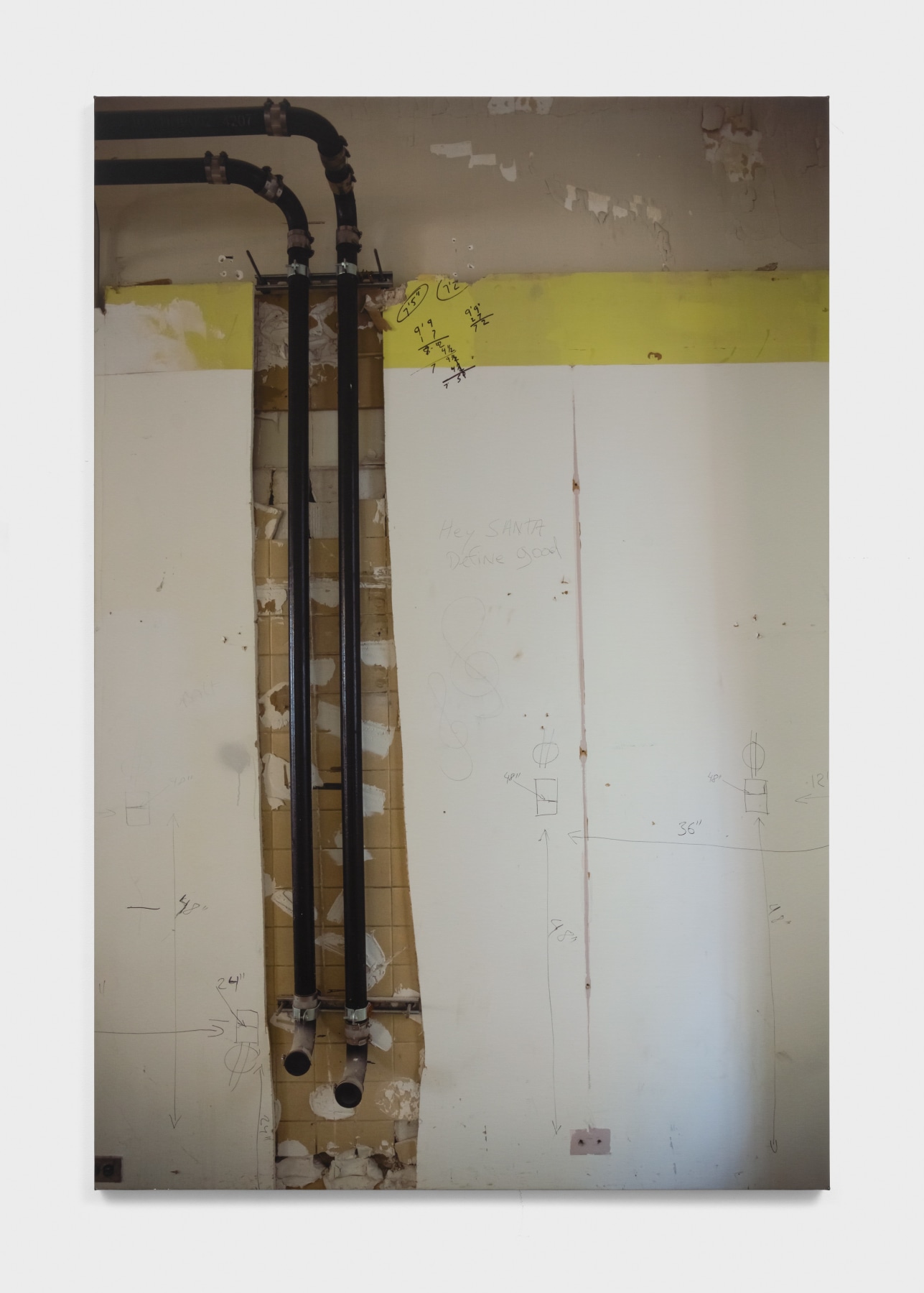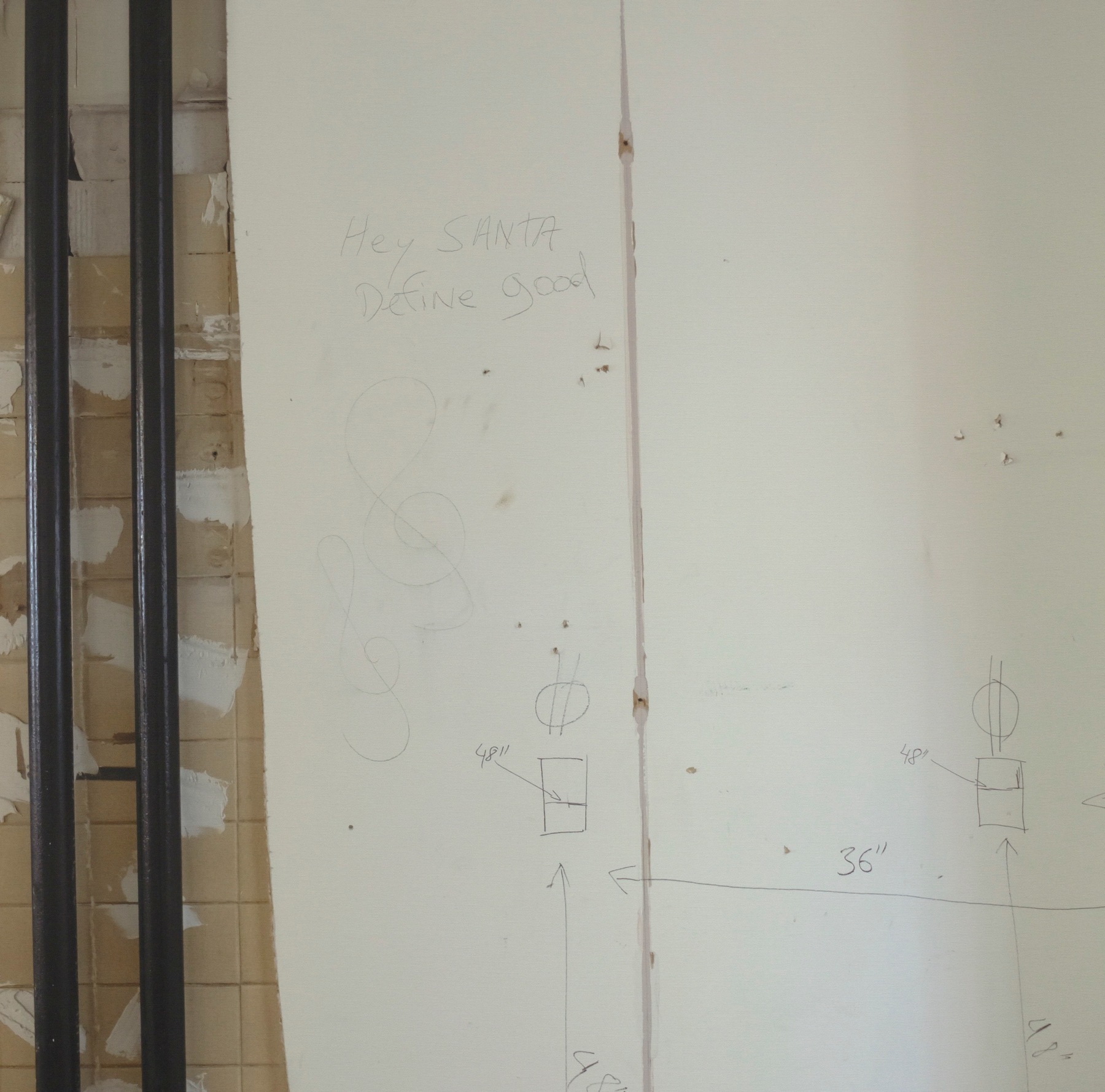 Yet what remains in these spaces are the marks of robust physicality. The artist captures and then reenacts this physicality by integrating photography, printmaking, and painting. She prints photographs on canvas, makes copies, and allows chromatic aberration, blur, vignetting, screen moiré effects, and white balance inaccuracies to live in the work.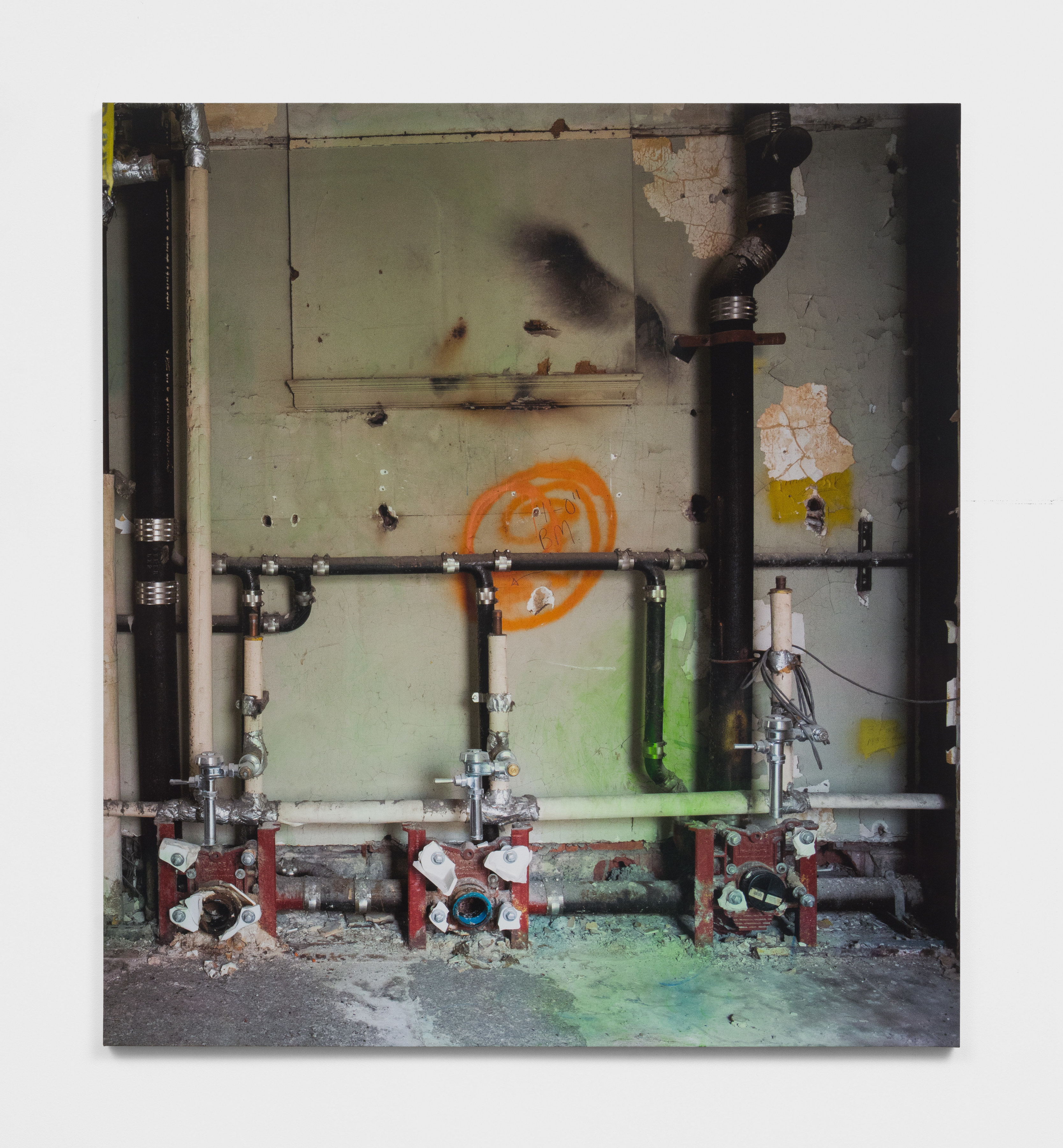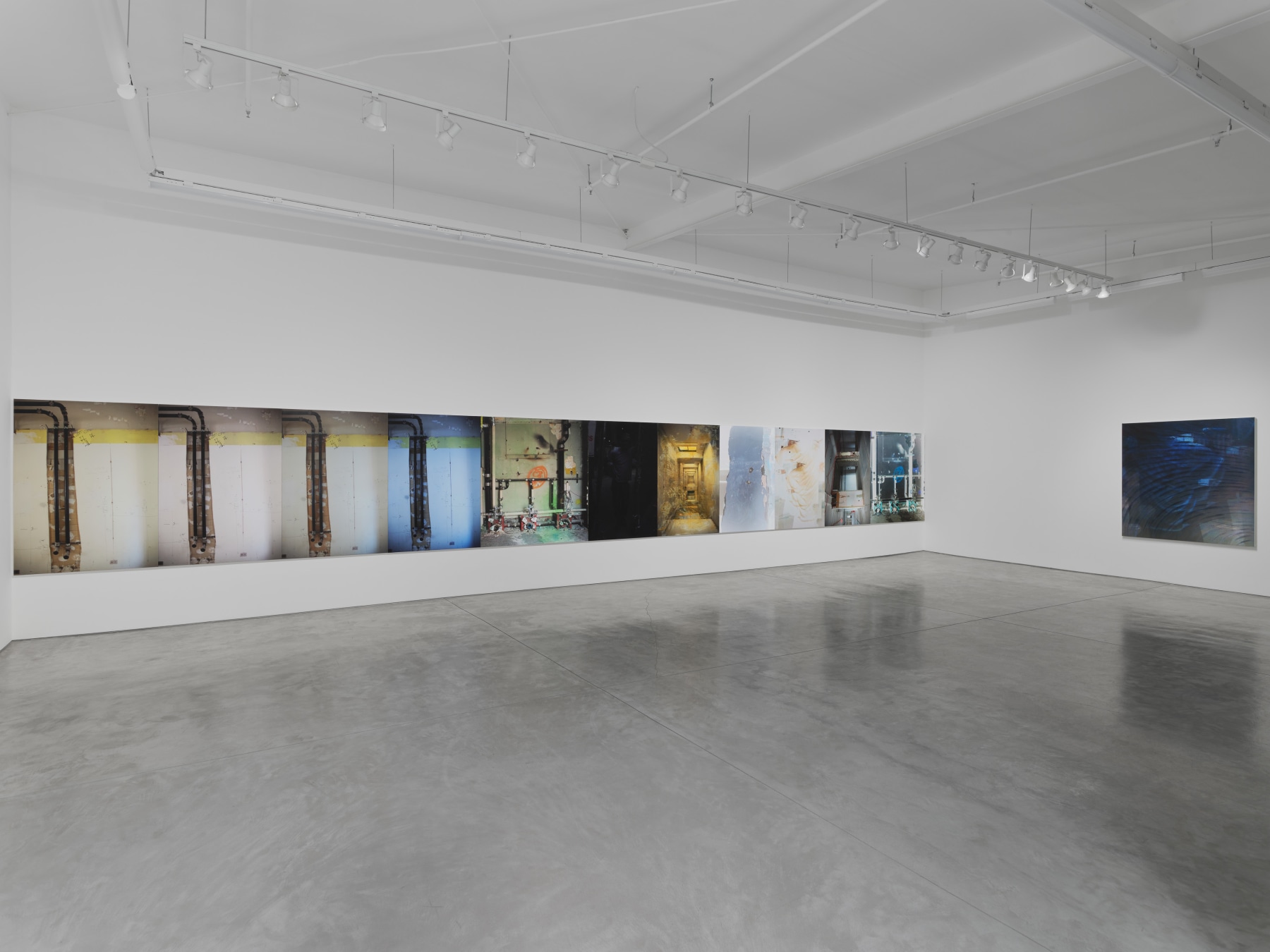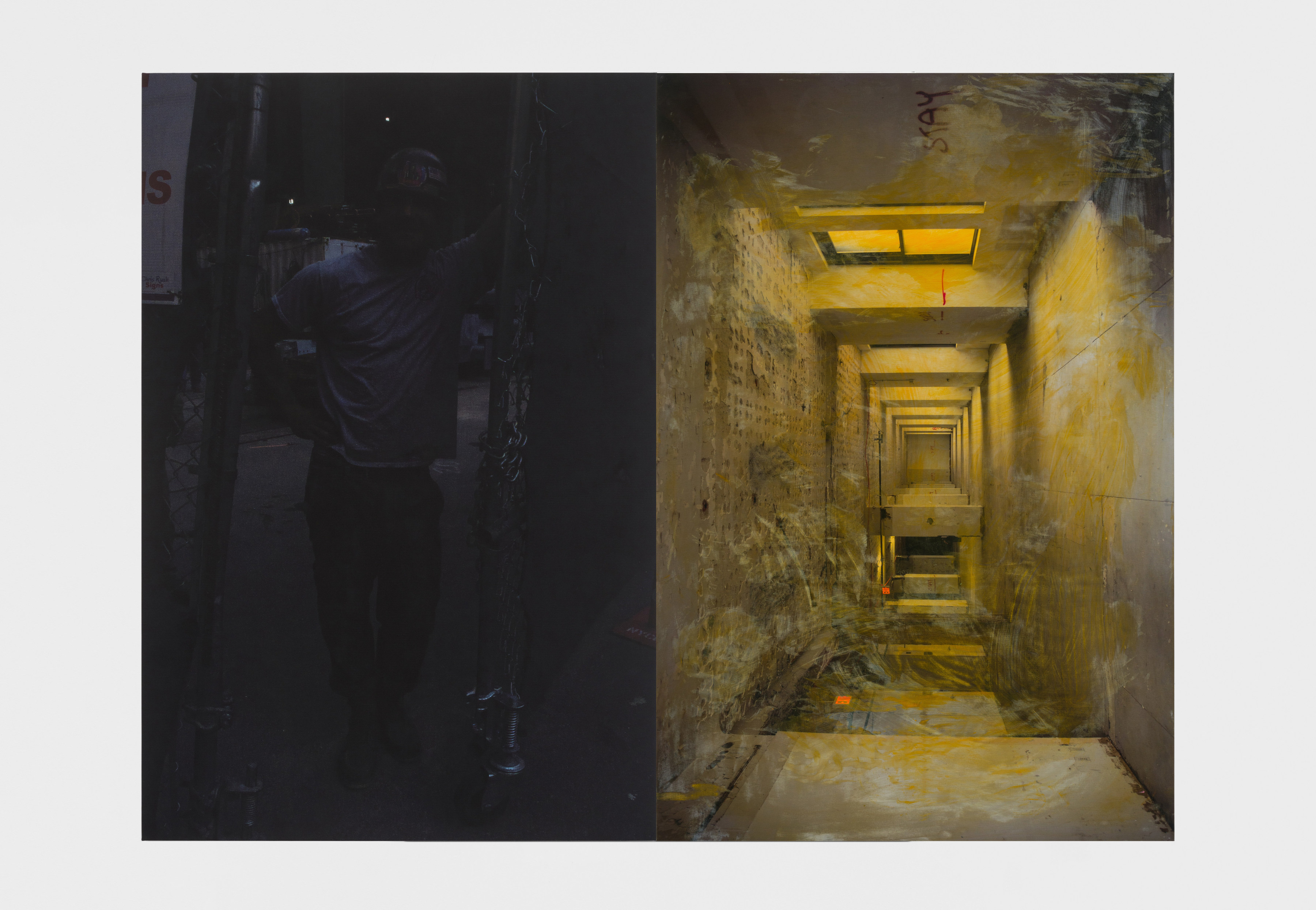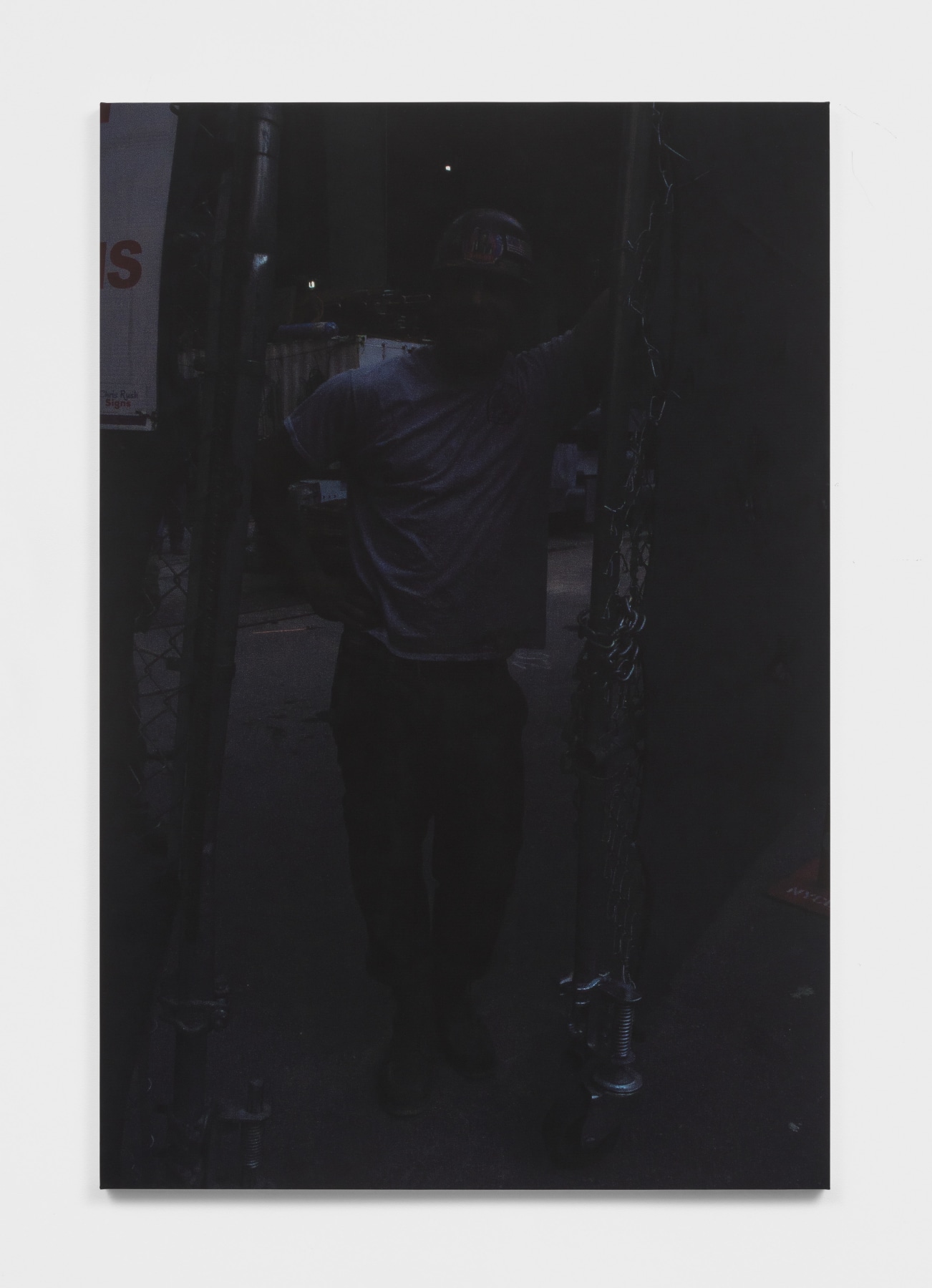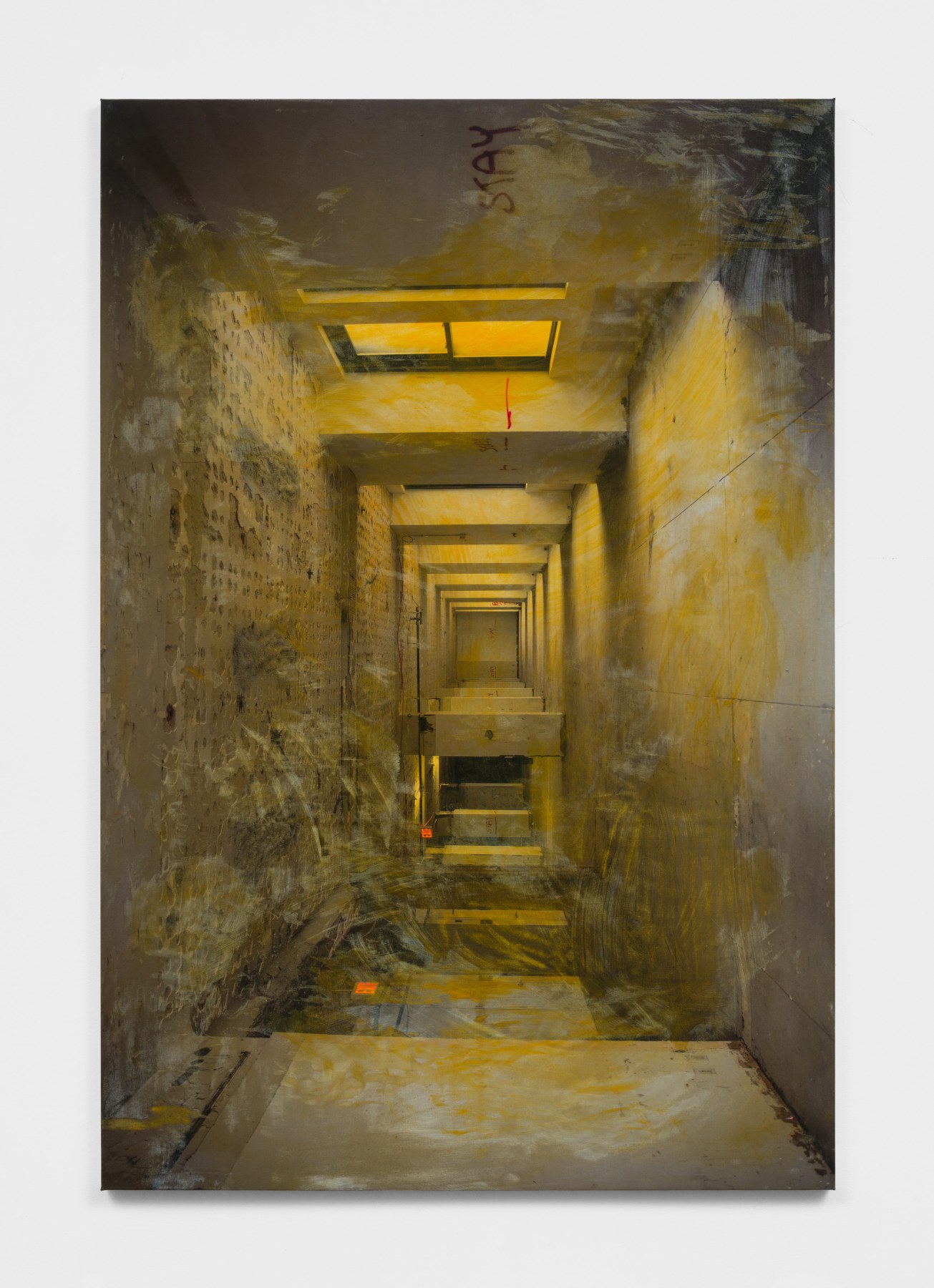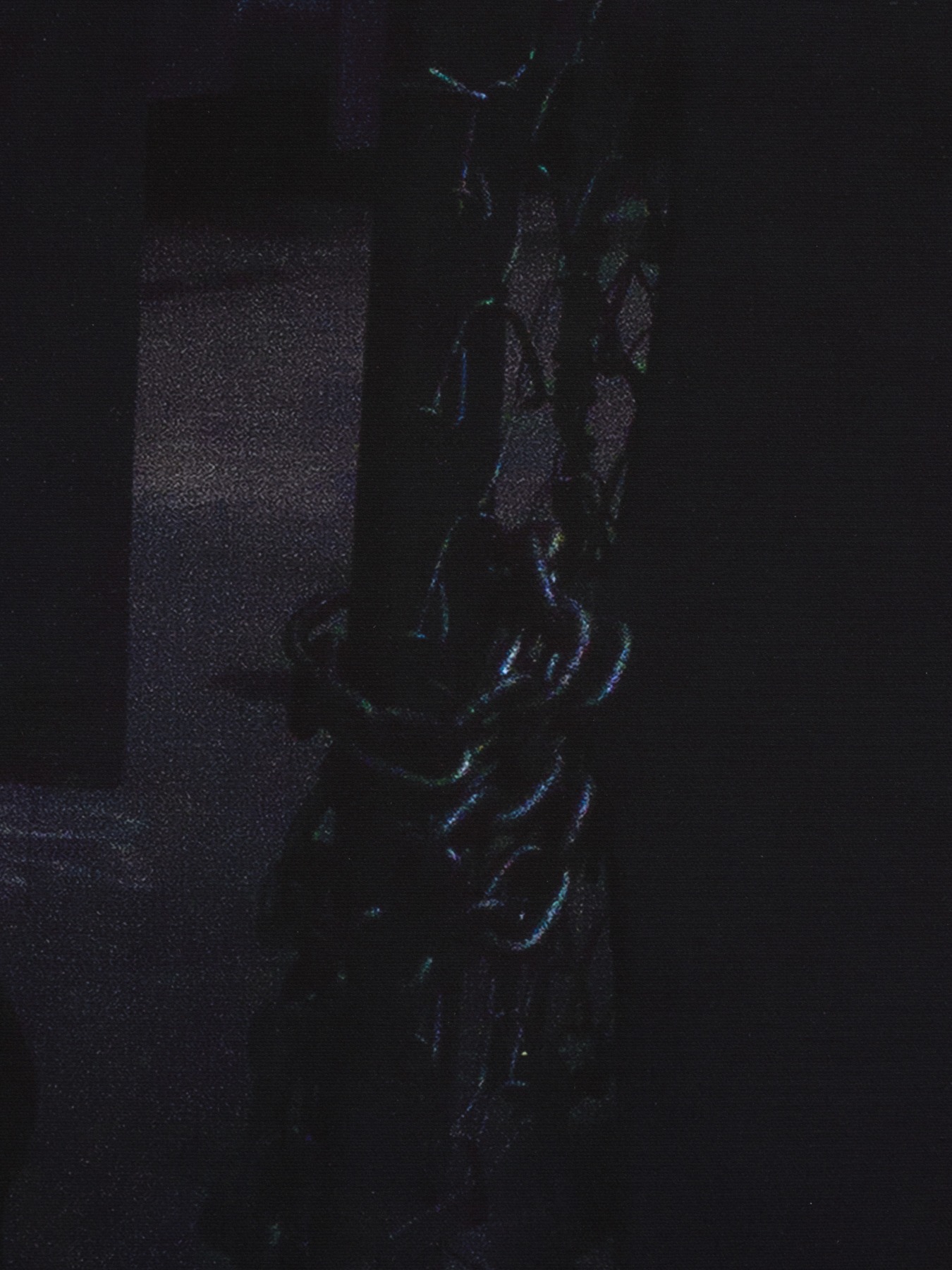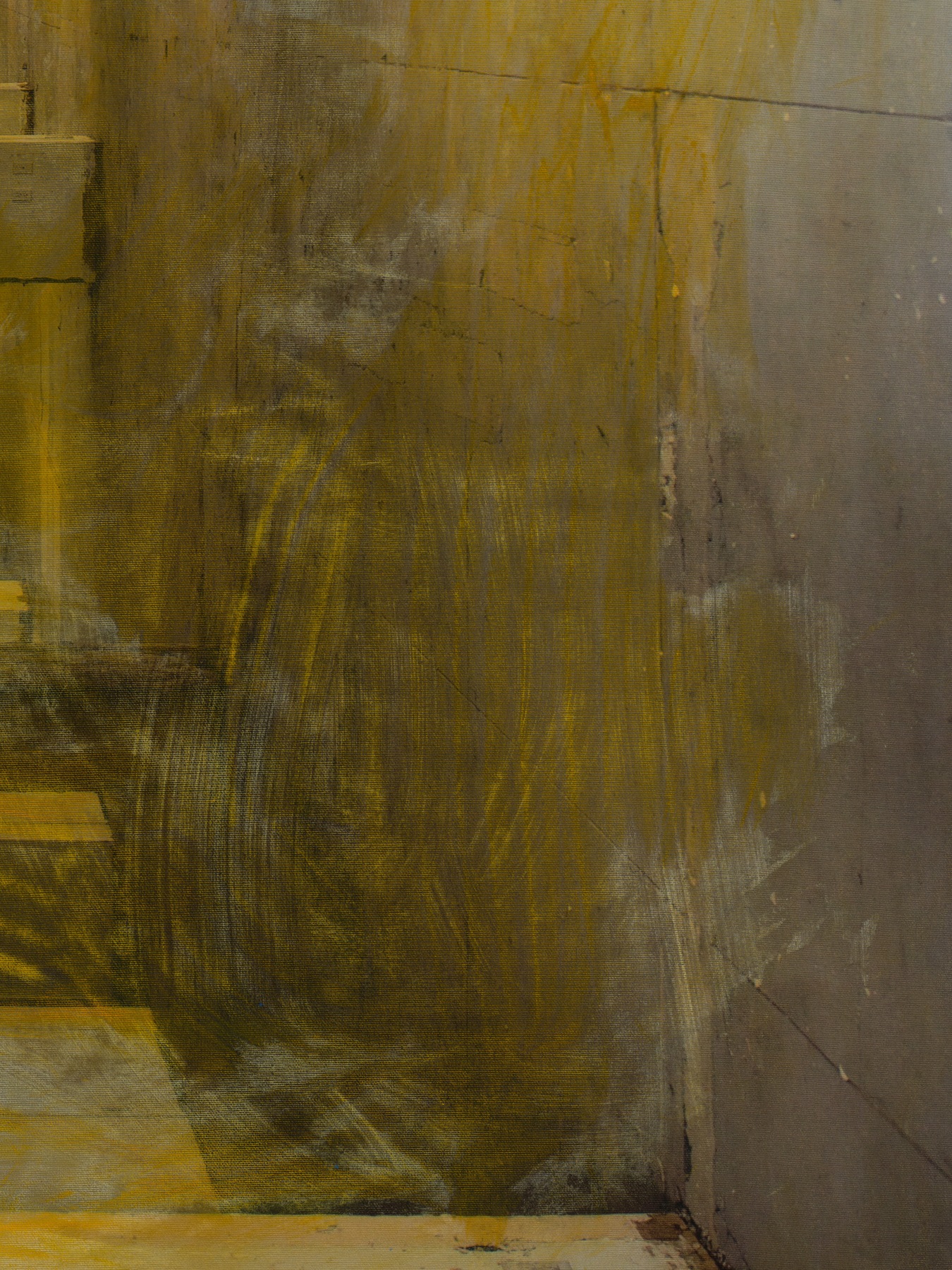 Standard sizes of construction materials and systems for efficiency make repetition integral to all the actions that make buildings. But amid the work, in what is deemed a man's world, are what the artist sees as hermaphroditic spaces overflowing with emotion, drawings, and paintings. Engineering sketches, calculations, chipping layers of paint, are beautiful works as-is, often dappled with graffiti, expressing the builders' carnality. Our unconscious surfaces through slips of the tongue; here they are put on display. The photographs capture a dream-like space, a gallery of jokes, mistakes, and urgency left at rest. "Hey Santa define good" and "Pussies Everywhere" are found statements showing us how the id and the ego, thus desire and morality, are always underfoot when we make our buildings and get through our days.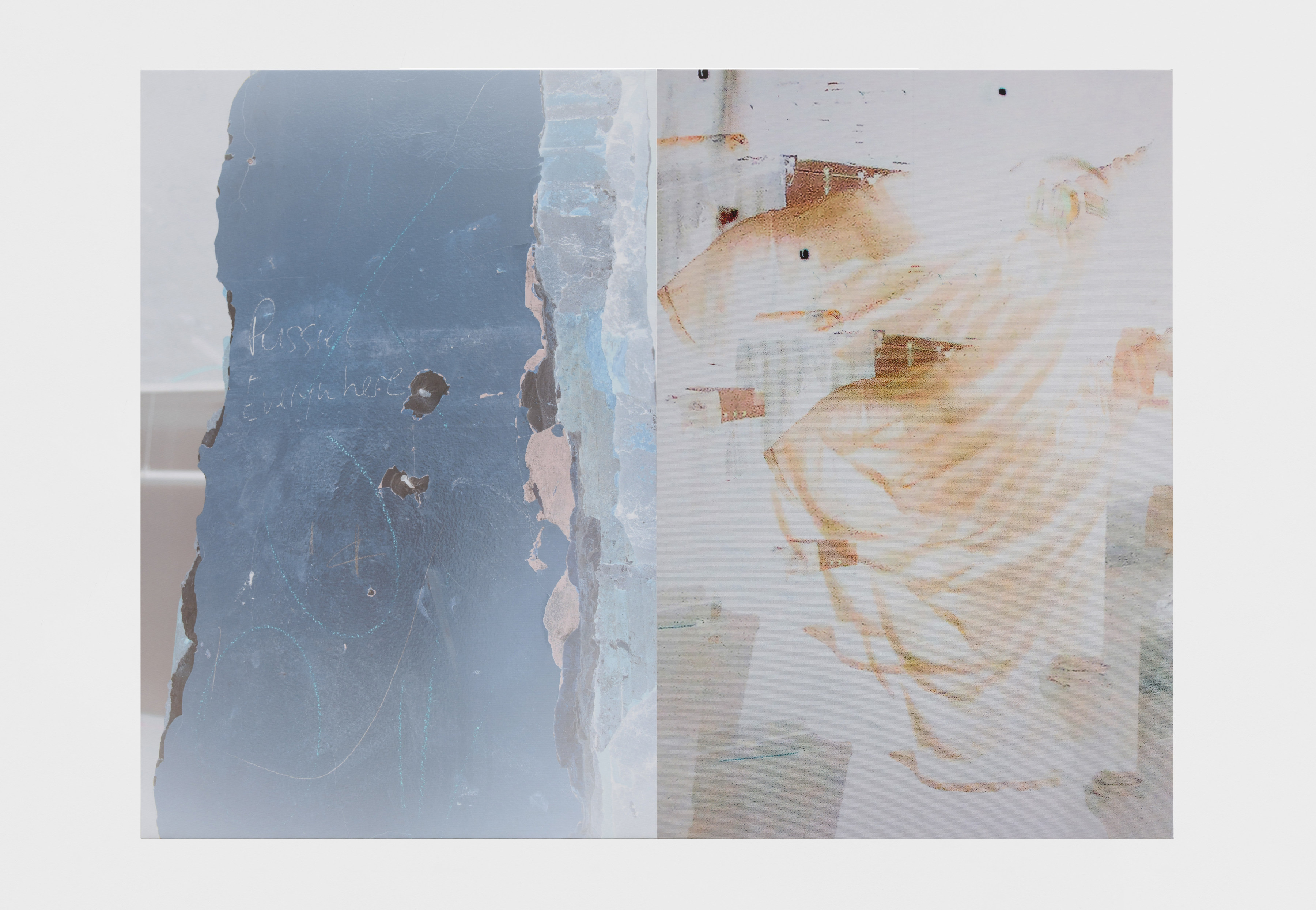 In one group of works within the show, Marcus zooms into the drapery of the figure's shirt in Eros. Repeatedly capturing the shirt's folds, she follows the curvature and looseness of the fabric as some kind of portal into an inner world of abstraction. In parallel, imagery of plumbing repeats throughout the show, as anthropomorphic stand-ins for the body's internal systems. Marcus wants you to go to the insides of these images, figures, and these spaces, and search, as if studying a sonogram, for more.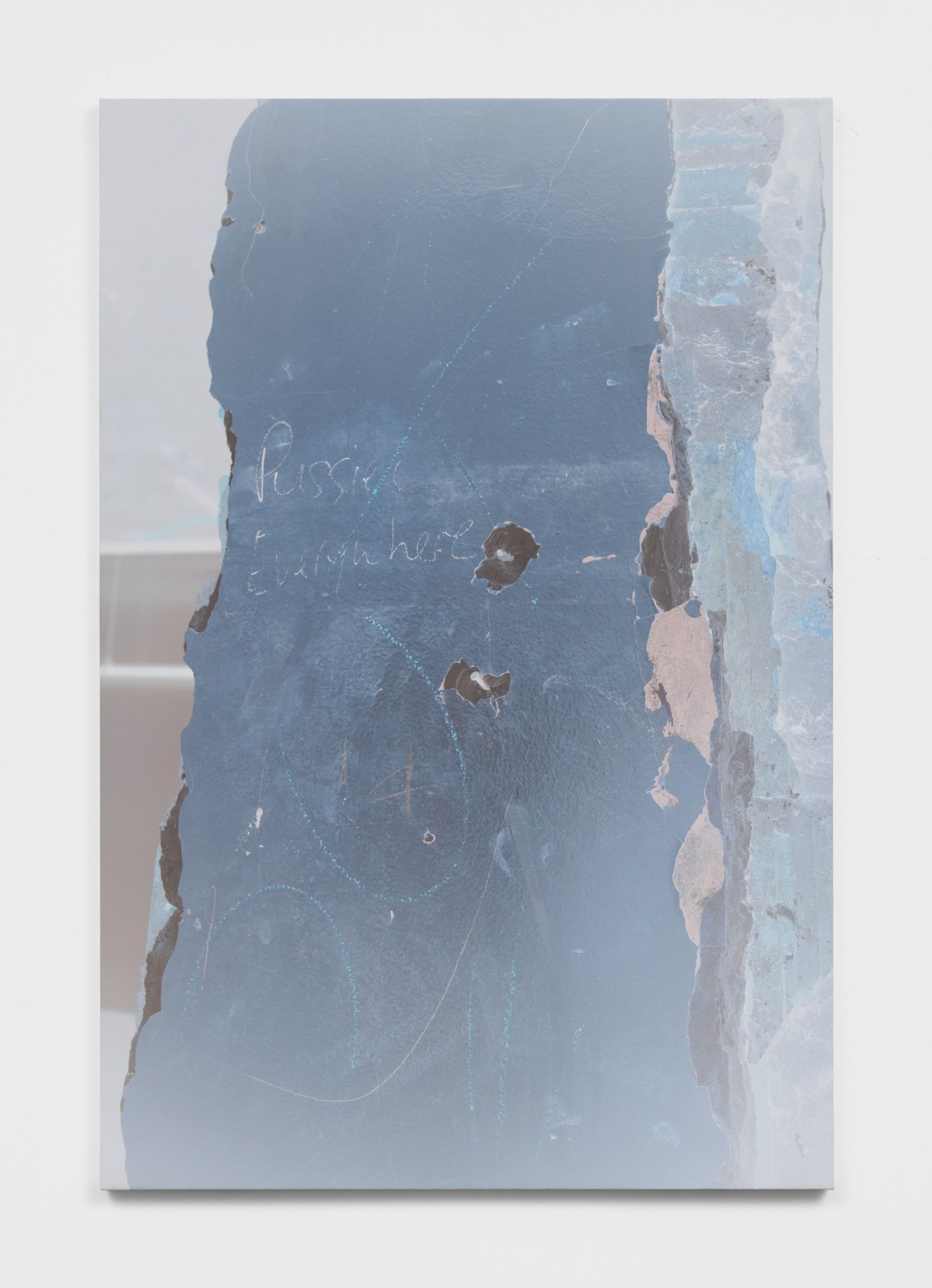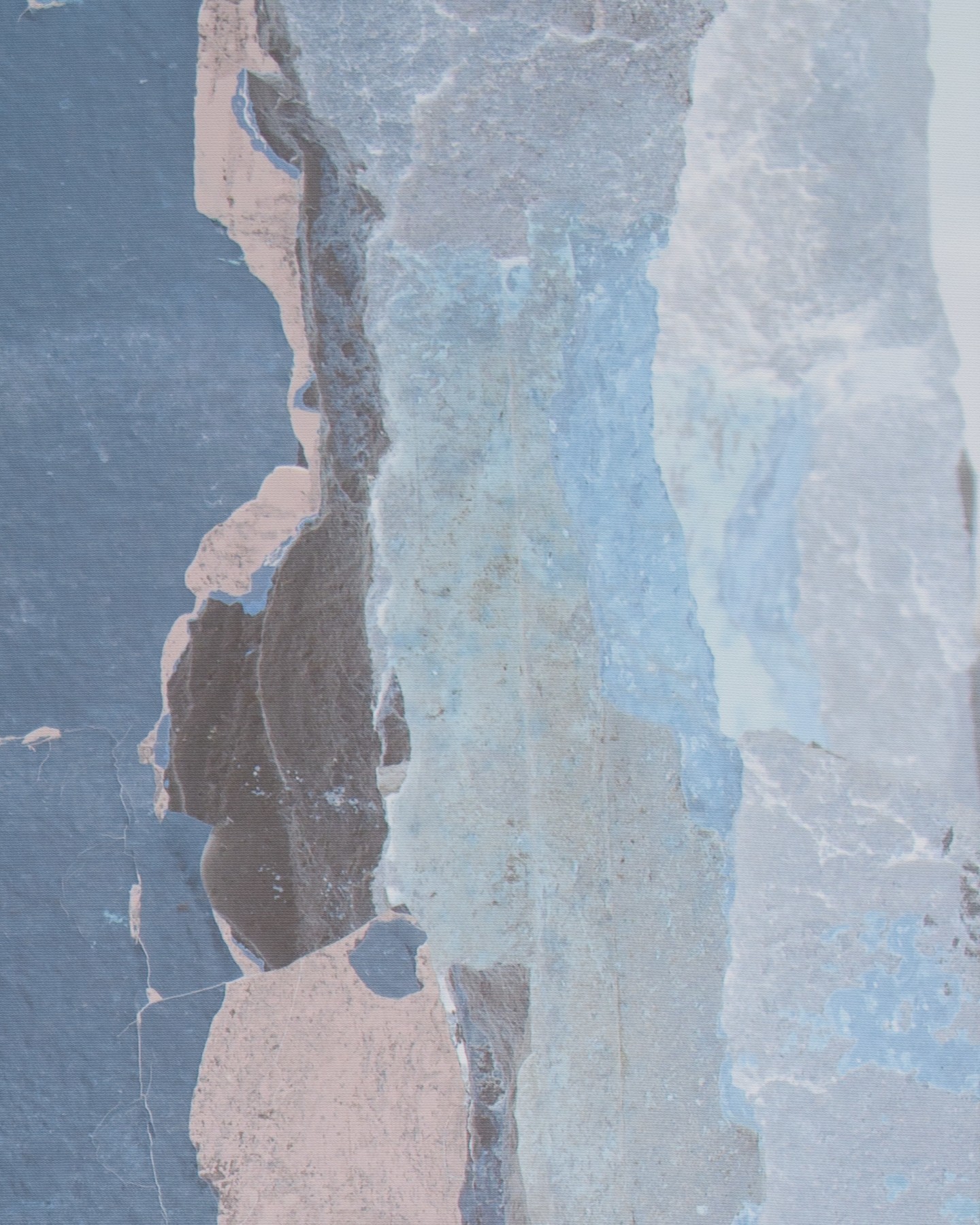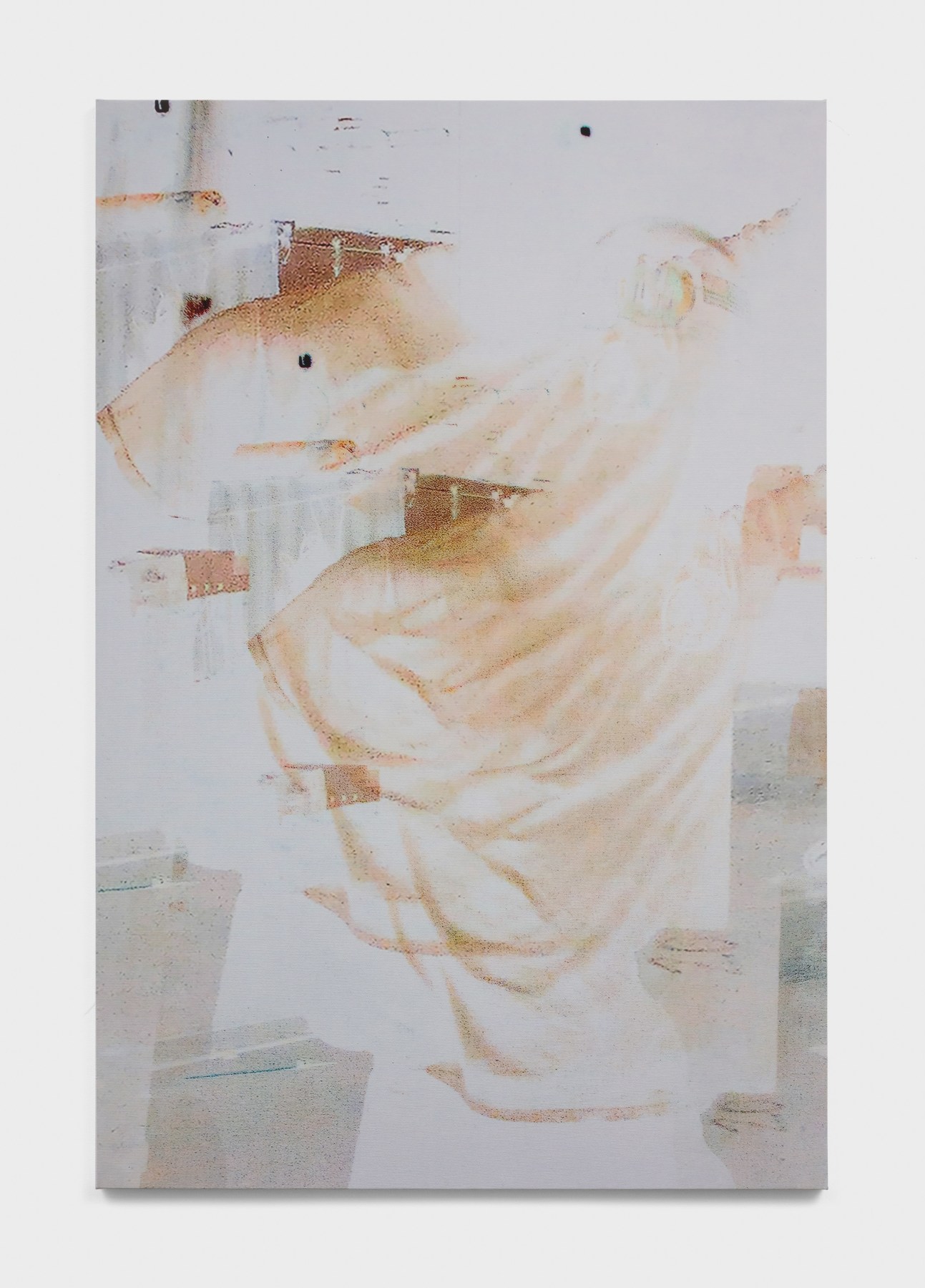 In some works, Marcus paints directly on the printed canvas, connecting the work to the quick sketches and scrawl found on the walls. In others, she documents her paintings, prints them, and returns them back to us as photographs. The works rebut medium specificity while questioning documentation and the sterility of fine art photography.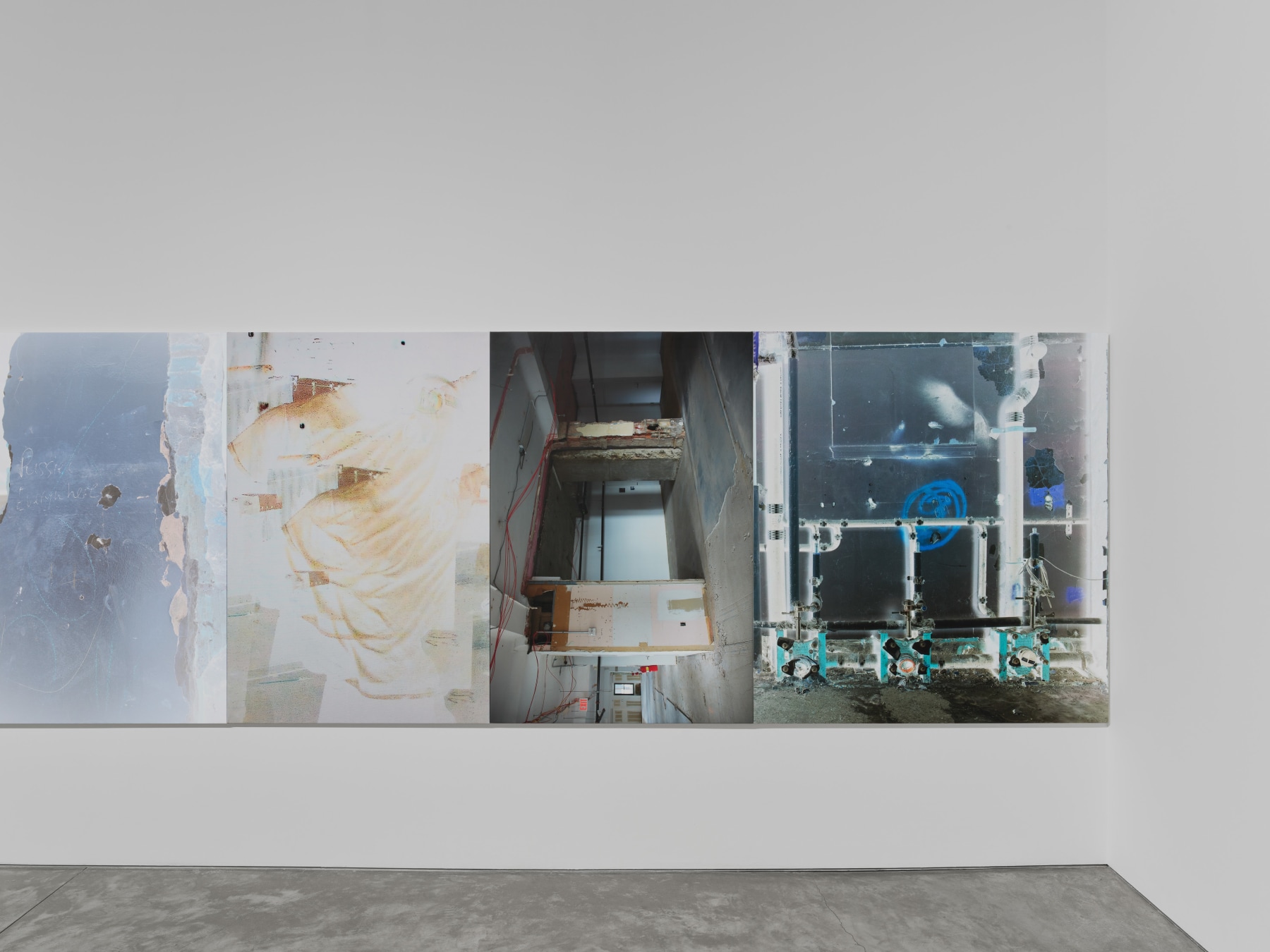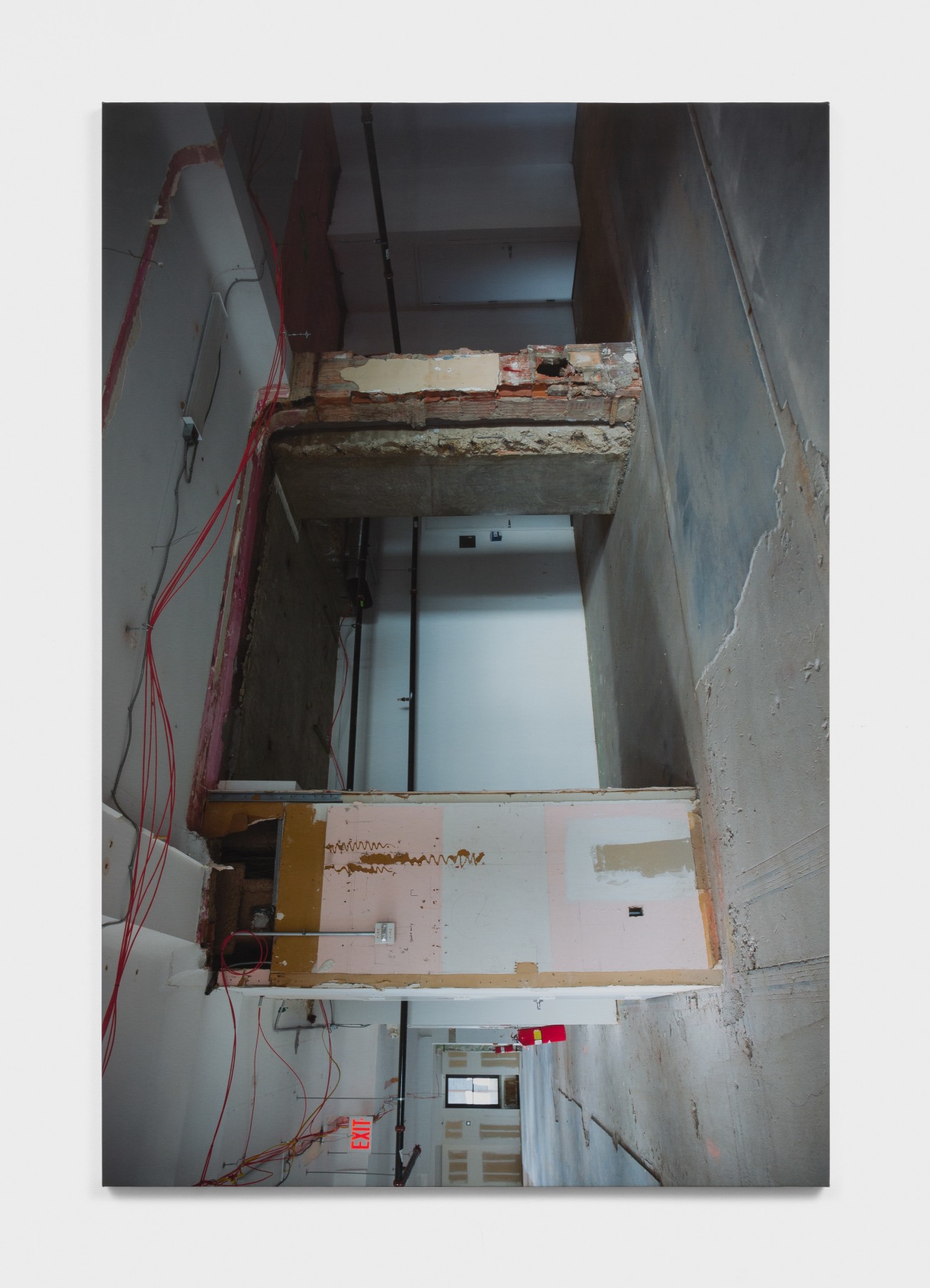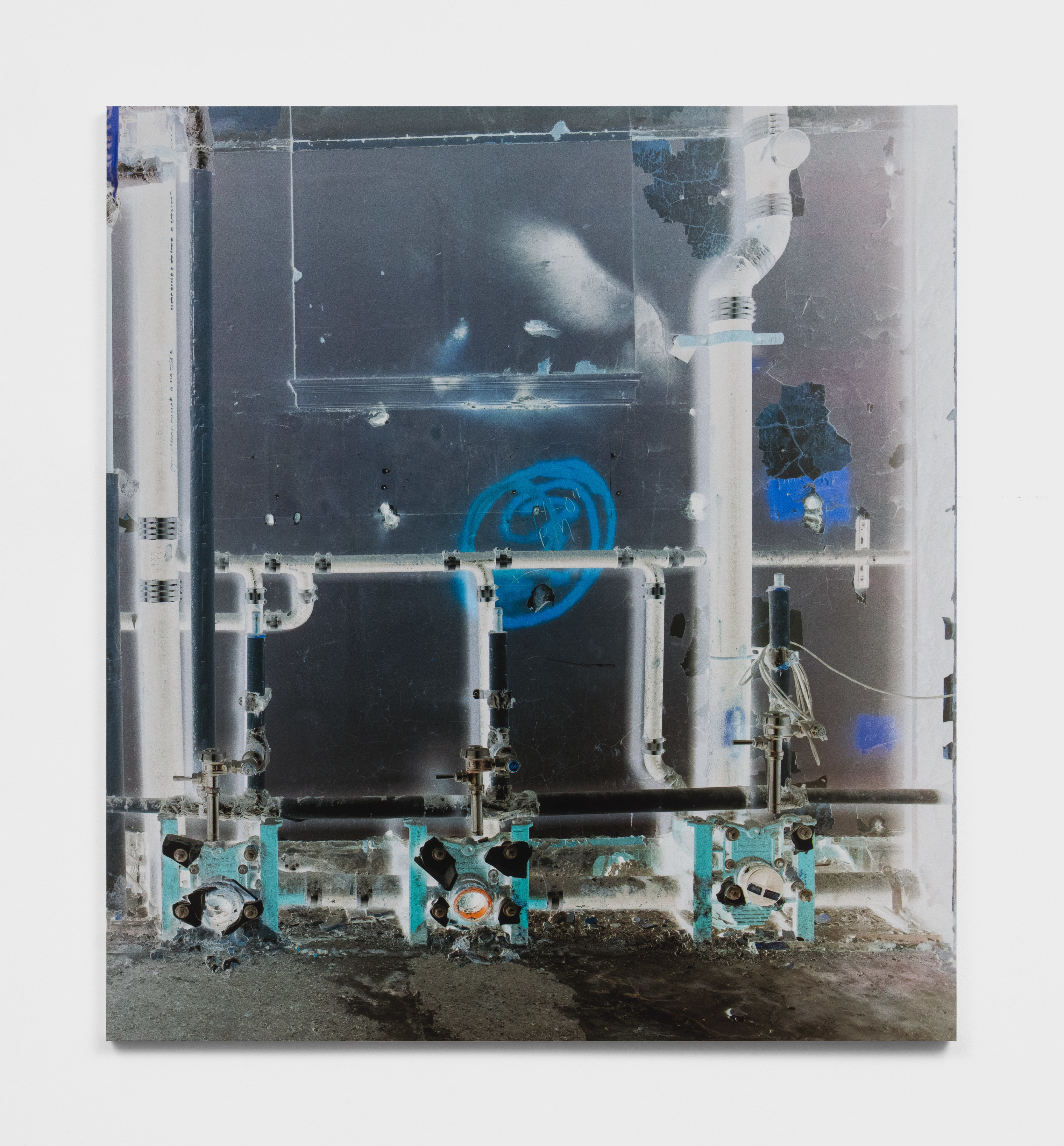 Marcel Duchamp, Harry Smith, Andy Warhol, Sherrie Levine, and Christopher Wool work with reproduction of their own art as its subject. Marcus' mirrored imagery, layered references, and blatant use of the printer celebrate the possibility of a single image and the potential for expression inherent in its reproduction. Reproduction and repetition become a kind of repossession, where undertones of figures, fixtures, shadows, reflections, and double images sit right at the surface.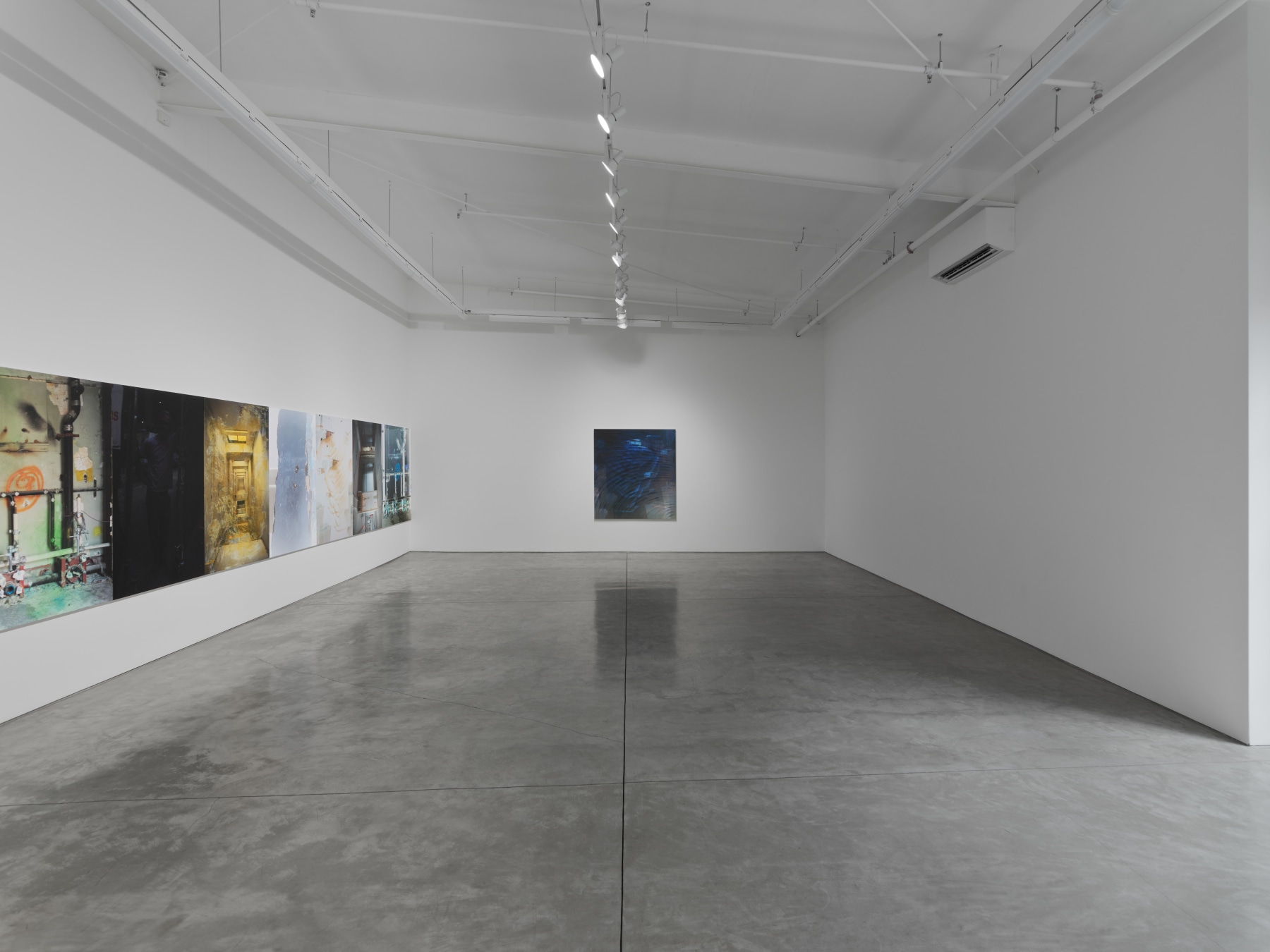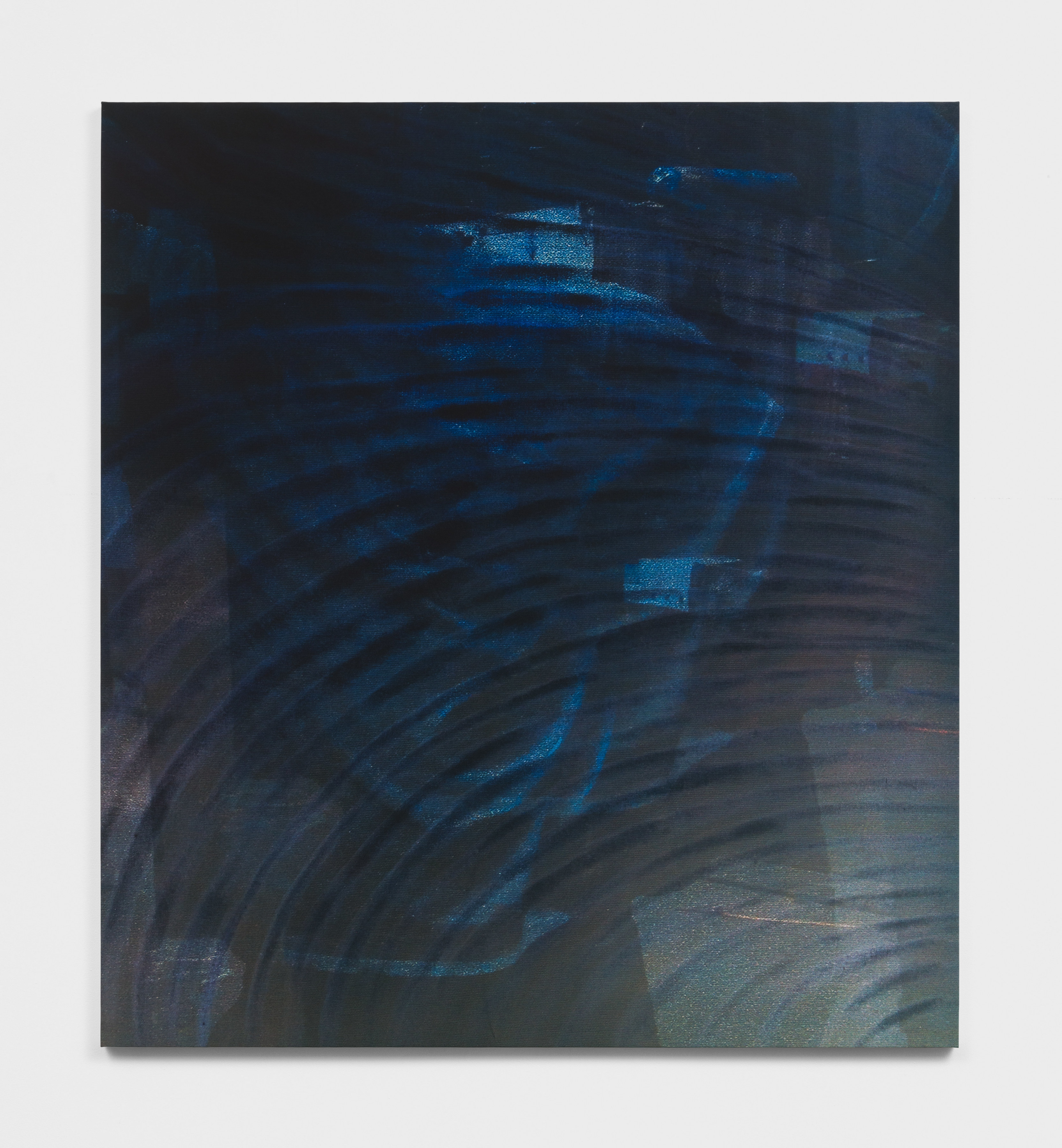 Rose Marcus (b. Atlanta, GA, 1982) lives in New York. She received a BFA from Pratt Institute in New York and a Master's in Art History at Hunter College, also in New York. Marcus's solo exhibitions include Night Gallery (Los Angeles); Mary Mary (Glasgow); Know More Games (New York); Eli Ping (New York); David Peterson Gallery (Minneapolis); and And Now (Dallas). Her solo art fair presentations include Frieze London and Paris Internationale. Her work has shown in two-person exhibitions at Atlanta Contemporary (Atlanta); Parisian Laundry (Montreal); La Kaje (Brooklyn); as well as group exhibitions at Modern Institute (Glasgow); Derosia (New York), Tanya Leighton (Berlin); Sies and Höke (Dusseldorf); Simon Lee Gallery (New York); and CANADA (New York). MaSS MoCa (North Adams) featured her work in 2016. Marcus's visual, curatorial, and performative work has been reviewed in The New Yorker, The New York Times, Art in America, Artforum, Cura, Architectural Digest, Mousse Magazine, Vogue, and Foundations Magazine.
Marcus treats groundwork as intrinsic to her art practice; she became a certified full-spectrum doula in 2020 and serves women in need throughout New York City. Marcus's art practice also includes curating, teaching, and writing. In 2010 and 2011, she founded and produced The Dependent Art Fair in New York, and has since spearheaded multiple curatorial endeavors. Marcus has published essays for the Theo Westenberger Foundation, ArtNews, Kunstmuseum Bonn, and DIS Magazine. She has self-published two books: Wits End and Technology is a Slow Job that Never Ends. She has held teaching positions at Cornell University in 2018 and Syracuse University in 2019. Marcus acted as curatorial consultant for a forthcoming exhibition at the Whitney Museum of American Art on the hermetic filmmaker Harry Smith. Her writing on Smith will be published in a forthcoming book titled Heaven and Earth Magic.